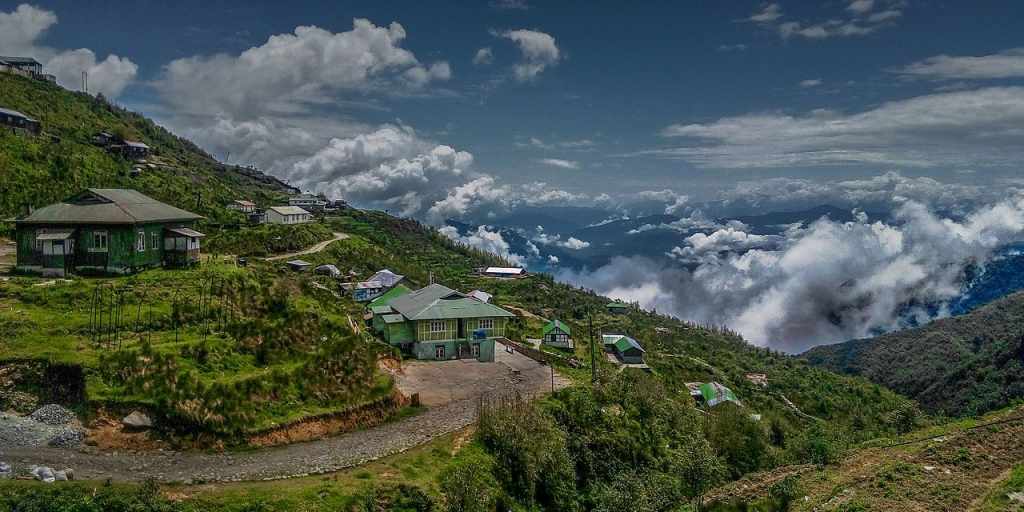 Honeymoon helps to instill love and tenderness into a newlywed couple's relationship. It is the most memorable time a couple spends together and creates the base of their relationship. You get to know each other better and create a beautiful bonding with your partner. So, choosing a perfect destination spot is necessary. And to do that, we are here to help! We have got for you some best honeymoon destinations in India that you can choose from! Start scrolling down to know them and choose the best one that you and your partner will like! In this blog, you will know about Best Honeymoon Destinations in India for Newly Weds.
Best honeymoon destinations in India
After a big fat Indian marriage, it is important to choose the correct destination for your honeymoon to shape your future life in the best way. Choosing the best honeymoon destinations for you in India might be difficult. So, we have shortlisted some of the best honeymoon destinations in India that you and your partner will love. Check them out below:
Sikkim
Sikkim counts among one of the best honeymoon destinations in India to celebrate your love and romance. A couple can reveal their emotions and open up to each other at this honeymoon spot. It not only takes their romance to the next level but will also help the couple feel serene and spiritual. Moreover, the essence of Sikkim can give the couple peace of mind away from the cacophonous buzz of the cities.
Things to do:
Rumtek, Phodang, Ralang, Phensang, Enchey are the few Buddhist monasteries that you can visit during your honeymoon.
Changu Lake is a great tourist attraction in Sikkim state. And you can ride a Yak here.
One of the most exciting things in Sikkim is to ride Gondola. Please do not miss riding on a Gondola.
You can take a helicopter ride to have a bird's eye view of the whole valley, which is mesmerizing.
Also, don't miss out on making a wish in the sacred Kuchipudi Lake
Another sightseeing you will enjoy is a visit to the Ravangla Buddha Park
Lakshadweep
Lakshadweep is a gorgeous destination located off the coast of Kerala. It is also known as the paradise of newly married couples. Lakshadweep is bestowed with miles of heavenly sun-kissed beaches. Taking a trip to Lakshadweep will be a thrilling, romantic, and adventurous experience. You can count Lakshadweep as one of the best destinations for honeymoon.
Things to do:
Avoid the crowds and go to the tiny Island of Bangaram surrounded by shallow Lagoon by one side and deep-sea on the other.
The shallow Lagoon is home to numerous sea turtles, and the deep sea is home to Sharks.
Take a trip to explore marine life.
There you can try various adventure sports like scuba diving, deep-sea fishing.
If you want a really good experience in fishing, do visit Minicoy Island. It will help you get the perfect pleasure of fishing there.
And if you want to experience the alluring music of waves and find some distinctive corals, Kavaratti Islands is a must-visit.
Moreover, do shop at Amindivi Island. This beach is famous for chorale products.
And don't miss out on having the bird's eye view of the whole majestic island from the Minicoy LightHouse.
Leh Ladakh
The couples who adventurous take a road trip to Leh Ladakh. Leh Ladakh is one of the best honeymoon destinations in India for you. The picturesque landscape of Ladakh will be a treat to your eyes. Every inch of the place is perfect for your romance.
Things to do :
If you and your partner love to ride bikes, then you have some beautiful destinations to cover on a bike. Some of which are Jispa, Tao Kar Lake, Nubra Valley, Khardungla Pass, Pangong Lake.
Also, you can go on a trek to Markha Valley Trek, Ripchar Valley Trek, Padum to Darcha Trek, Frozen River Trek.
If you want to relax and feel the beauty of Ladakh, then go on a jeep safari to Rohtang Pass, Nubra Valley.
Apart from all these, you can visit many villages. There are many old monasteries where you can get the essence of Buddhist culture.
You can also witness and enjoy some of their festivals in June July month.
Also, you can get to see the most vibrant colored flowers at every curve of the valley.
Udaipur
Udaipur is the destination where you can experience the authentic cultures of Rajasthan. You will fall in love with the color, the streets, the folk art, the sunset, all of which will give your honeymoon royal pleasure. You will love the people there for their lovable and friendly nature.
Give your honeymoon royal pleasure by visiting Udaipur. The city used to be the capital of the Mewar Kingdom and is full of Rajput Palaces. Udaipur is also known as the 'City of Lakes' for its well-maintained beautiful lakes.
Things to do:
Visit the famous lake – Lake Pichola and on its bank The City Palace.
The iconic Lake Palace will be a treat to your eyes and soul. You can see the Aravalli hills from here.
If you are religious, don't forget to seek blessings in Jagdish Temple
. Jagmandir in Udaipur is one of the most romantic places.
Don't forget to visit Saheliyon ki Bari.
Other than these there are many beautiful palaces and lakes. Visit all these places to fill your honeymoon with fun, romanticism, and adventure.
The terrace at Fateh Prakash Palace will give you a wholesome pleasuring view of the royal city's main landmarks.
Coorg
Just 260 km away from Kerala lies Coorg. After tying the knot, who wouldn't want to visit a heavenly abode like Coorg. It is known for its rich cultural heritage and abundance of biodiversity.
The picturesque greenery of coffee plantations and mystic mountains in the Western Ghats makes it one of the best honeymoon destinations in India.
If you are looking to rekindle your love in connection with nature, then Coorg is the ideal honeymoon destination for you. Coorg has some amazing honeymoon resorts to take your romantic trip up to the next level.
Things to do:
To witness the scenic beauty of Coorg, do visit some of the beautiful waterfalls here in between the green coffee plantations. Most popular and beautiful among them are Abbey Falls and Iruppu Falls.
One of the most adorable things you can do in Coorg is playing with elephants. You can do this in the Dubare Elephant Camp.
Do visit the beautiful Nagarhole National Park.
Brahmagiri Peak is also one of the best tourist attractions here.
Raja's Seat is one of the most attractive places here. It is a flower garden and fountain garden.
You can go trekking or can go for a Jeep Safari in Mandalpatti View Point in Coorg.
Kashmir
It is known as the paradise on earth for its gratifying autumn, delightful lakes, picturesque landscapes, and gardens. Kashmir is one of the greatest attractions for tourists from all over the world.
You can also call this is also a romantic, picture-perfect honeymoon destination. Spend the night in authentic Shikara while cold winds blow through your window. Watch the sunrise and feel the warmth of Kashmir with your partner.
Things to do:
Riding Gondola in Gulmarg and seeing the beauty of Gulmarg is a treat to everyone.
Dal lake is one of the most visited places in India and Kashmir. It would be best if you rode on a houseboat in Shikara in Dal Lake.
From Dal Lake, you can view the snow-covered Himalayas.
There are some very famous gardens created by Mughals and many more colorful gardens to visit.
Darjeeling
Darjeeling is located in West Bengal, a picturesque town in Lower Himalaya. It is known for its heritage and culture and its famous tea gardens. From Darjeeling, you can get a vivid view of Kanchenjunga and sunrise from Tiger Hill.
Things to do:
Have the view of the rising sun from Tiger Hills, Himalayas, Mt Everest, Kanchenjunga peak.
Do visit Padmaja Naidu Zoological Park.
Ride the cable car at Darjeeling ropeway to have a wholesome view of the place.
Enjoying a 'toy train' ride on Batasia Loop is a must.
Darjeeling is famous for its tea estates. So, do visit the Happy Valley Tea Estate.
If you and your partner have an adventurous soul, then go rafting in the Teesta River. If not, you can just visit the Teesta River.
Also, don't forget to taste the local foods
Goa
Often called 'the party capital' of our country, Goa is situated on the western side of India, on the coast of the Arabian Sea. Goa is known for its beaches, churches, Portuguese colonies.
It is among the most popular and best honeymoon destinations in India. It has some stunning views, mind-blowing suites, cozy dinners and hippie cultures, and everything that you need to spice up your love life.
Things to do:
Visit the famous beaches of Goa with your partner. Some of the beaches you can visit are Calangute Beach, Baga Beach, Anjuna Beach, Dona Paula Beach, Palolem Beach, and many more.
Do visit the forts like Chapora Fort, Fort Aguada.
Don't miss out on shop something from Anjuna Flea Market.
Visit the Bondla Wildlife Sanctuary
The Church of Our Lady of Immaculate Conception and Bom Jesus Basilica is one of the most famous tourist attractions in Goa. Go to these places with your partner and feel the essence.
Puducherry
Puducherry is a shining gem on the East coast of India, which will make your honeymoon as bright as possible. So you can count this as another best honeymoon destination in India for you.
Among all places in South India, Puducherry is that 'steal the show' destination. It is a place that steals the heart of every romantic couple.
For the feel of a European vacation, book a Puducherry honeymoon trip. The replica of a French lifestyle, the luxury of Puducherry, is something that you might not want to miss.
Things to do:
Get a spa in the famous Ananta Resort.
Go scuba diving and witness marine life. See some fine corals, snakes, angelfish, and more.
Get lost with your partner in the French colonies and explore the rich heritage and culture of the French.
Visit the famous Sri Aurobindo Ashram and meditate there for some time.
Don't forget to taste the local cuisine and also try out some French cafes.
Mount Abu
Mount Abu is situated very close to the Rajasthan Gujarat border in the hills of the Aravalli range.
It is also one of the best honeymoon destinations in India. The beauty of the mountain comes out best in the rain. A hill station and desert together is a rare thing to find. But Mount Abu is that rare destination.
Things to do:
One of the best places to visit in Mount Abu is Dilwara Jain Temple. It has one of the finest works of architecture the world holds.
Visit Guru Shikhar Peak, situated in Mount Abu Wild Life Sanctuary. It is the highest peak of the Aravalli range too.
Go to the sunset point with your partner. It is a perfect romantic place where the sun gives amazing views beyond the hills.
Visit Nikki Lake, which is the largest man-made lake at such a height. The lake is also considered to be a sacred Lake.
Trekking and boating are a must-try in this area.
Visit Achalgarh Fort.
Mount Abu Wild Life Sanctuary is also a very popular place that is best known for its flora and fauna.
Andaman and Nicobar Islands
A walk on the white sand beach of Andaman while holding your partner's hand will make you confess your love to your partner all over again. Here the sky and the sea meet on the horizon.
Andaman and Nicobar Islands is one of the Union Territories. It comprises 572 Islands. For a while now, it is the best honeymoon destination in India for adventure and sea-loving couples.
Things to do:
Watch the light and sound show in Cellular Jail.
Visit the famous beaches, and go scuba diving in Havelock Islands or Neil Islands.
Try out snorkeling on famous beaches like Jolly Buoy Island or in Neil Island, or Elephant Beach.
To survey more about the underwater life of Andaman, go on a glass-bottom boat.
In Barren Island, witness the volcanos, and try out water sports at Andaman.
Parasailing is one of the adventure sports to try in Andaman.
Final Thoughts
As we come to the end of our blog, we hope that you have a list of all the best honeymoon destinations in India to choose from. So, once you choose a place of your choice, do let us know in the comment section below.