India is a land where people from different cultures coexist, and that's why the list of festivals of India is enormous. If you look very carefully, you will find each month having some festival or the other – it will vary according to the states and cultures.
These festivals are a way people celebrate their traditions, cultures, and beliefs. Each festival has its varied characteristics and they differ from one another. The country celebrates the events under the list of festivals of India either according to season or state.
A lot of festivals are local, but still, people celebrate them differently in the same state. At times, people celebrate the same festival on different dates or even months of the same year.
The significance of festivals in India is to pay respect and honor to deities, religious stories, or celebrate agricultural cycles and many more events. Since you have a brief of how Indian people revolve their lives around different festivals, let us check them out below! We have made a list of festivals and why they are celebrated in India. Thus, it is time to start scrolling down to know them all!
List of festivals of India and why people celebrate them
If you want to visit India, you can plan your vacation when you want to celebrate and explore the festivals. The list has regional and national festivals of India. So, check them out below:
Durga Puja
Durga Puja is one of the famous Hindu festivals. However, people in West Bengal, Odisha, Bihar, Tripura, and Assam celebrate the festival with grandeur.
It is a 10-day occasion, and it is so celebrating the victory of Goddess Durga after she defeated the demon Mahishasur.
During this time, people make pandals and cover the streets with colorful lights.
Pandal hopping, feasting, and praying are some of the main factors of Durga Puja.
Some of the main rituals of Durga Puja:
Bodhana
This involves the awaken and welcoming of Goddess Durga, mainly done on the 6th day.
Adivasi
For this event, people make symbolic contributions to the Goddess. Each piece represents a memory of delicate forms of the Goddess. Again, they follow the same ritual on the 6th day.
Navapatrika snan
This marks the cleansing of the Navapatrika done on the 7th day of the festival.
Ashtami Pushpanjali and Sandhi Puja
8th day morning marks the pushpanjali rituals.
People do Sandhi Puja at the end of the 8th day and the beginning of the 9th-day.
This marks the time when Goddess Durga fights Mahishasura.
Homa and bhog
Fire oblation or Homa happens on the 9th day. Some places follow the rituals of, Kumari Puja on this day. After the rituals, they offer bhog to the Goddess.
Sindoor Khela and engagement
The final day exhibits women applying sindoor on each other and on the deity. It is mainly for married women and the ritual means having a happy marital life.
This year it starts on 11th October (Monday) and ends on 15th October (Friday).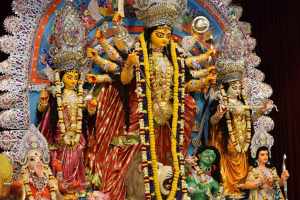 Pongal
Another list of festivals of India is the multiple-day Tamil Festival, called Thai Pongal or Tai Pongal. Pongal is a thanksgiving event where worshippers thank the Sun for agriculture and harvest.
It mainly occurs for 3 to 4 days.
Bhogi Pongal
This is the first day of Pongal and the last date of Marghaz, the Tamil month. People abandon their old things and celebrate the new belongings.
People clean their houses and decorate them, and they even paint the horns of the local animals like oxen and buffaloes.
The prays offered to the God of rain, Indra.
Surya Pongal
People offer prayers to the God Surya on the next day. Also, the Surya Pongal refers to as Perum Pongal. It is also the first day of the Tamil calendar Tai.
People celebrate this day with close friends and families. Also, they make traditional Pongal dishes. They store the food in pots and keep it in an open space and towards the sun.
They decorate the port with flowers and turmeric plants. Finally, they add two sugarcane stalks near the kitchen or on the cooking stove.
Mattu Pongal
Mattu means cattle such as bull and cow. Tamil Hindus believe that they are the source of providing transportation, dairy products, helps with agriculture, and fertilizer. Moreover, they decorate cattle with flowers, paint their horns with color. Also, they offer exceptional food to the cattle and worship them.
Kanum Pongal
Kanum Pongal or Kanu Pongal is the last day of one of the famous regional festivals of India. The word kanum means 'to visit that's why many families meet on this day.
On this day, people consume fresh sugarcane.
This year it starts on 14th January (Thursday) and ends on 17th January (Sunday).
Eid ul-Fitr
Eid ul-Fitr, also known as "Festival of Breaking the Fast," is month-long fasting during Ramadan. The Islamic prophet Muhammad was the first one who originated this ritual.
Some believe that he started it in Median after he migrated from Mecca. Anas, prophet Muhammad's companion, stated that they saw people celebrating specific two days when they arrived at Medina.
Prophet commented God fixed these two days to celebrated, and they are now known as Eid al-Fitr and Eid al-Adha.
Edgar
The Eid prayer or Edgar is performed in an open area like mosques, fields, and community centers. There are two parts of the prayer and flexible amount of Takbirs.
Other prayer essentials are also included, but that depends on the division of Islam.
Sunni procedure
According to the ritual orders, Sunni's tribute to Allah in a roaring voice when they are going to Edgar.
Shia procedure
Niyyat starts the prayer, and then 5 Takbirs follow. Every Takbir offers a special prayer.
This year it starts on 12th May (Wednesday) and ends on 13th May (Thursday).
Christmas
Christmas is another famous festival on the list of festivals of India and the entire world. In India, irrespective of the religion people follow, a lot of people celebrate Christmas.
All the churches have a Christmas trees lit up during this time. This is to celebrate the birth of Jesus Christ.
Kerala, Goa, and Pondicherry are the best place to celebrate Christmas.
Christmas Day is the 25th of December, as people celebrate it across the world.
Saraswati Puja or Basant Panchami
This Hindu festival is celebrated either between the end of January to mid of February.
Basant Panchami also means it is the start of preparation for Holi, which happens 40 days after Saraswati Puja.
Goddess Saraswati is the Goddess of arts, language, knowledge, and music.
Many people on this day try to encourage babies to write their first word, some study, and sometimes the families create or play music together.
The date this year was 16th February (Tuesday).
Hornbill Festival
Hornbill is also known as the Festival of Festivals, is celebrated in Nagaland.
Several tribes live in Nagaland, and to encourage communication between all of them, the Government of Nagaland held this festival. Here they showcase their ethnicity and their culture.
During the ten days celebration, you can see performances, games, food fairs, spots, sculptures, wood carving, crafts, painting, and other ceremonies.
The name of the festival is given after the colorful bird Hornbill, which is mentioned in most tribe's folk tales.
This year it starts from 1st December (Wednesday) and ends on 10th December (Friday).
Maha Shivratri
It is another list of festivals of India, celebrated nationwide.
This festival is to honor Lord Shiva and to overcome ignorance, obliviousness, and darkness.
Devotees go to the temples of Lord Shiva, mainly in Somnath and Varanasi. In Mandi, which is located in Himachal Pradesh, a Mandi Fair is prepared to celebrated Maha Shivratri.
This year it was celebrated on 11th March (Thursday).
Holi
Holi is also called the festival of love and colors and is among the national festivals of India. It is one of the most friendly and amiable occasions in our country.
The day before Holi, Holika Dahan happens at night where every negative and bad thing is burned in the bonfire.
On the day of Holi, everyone plays with various colors, music is played, and dances. Thandai, Namak para, and Karanji are an important part of this festival.
The Lathmar Holi is famous in the Mathura, especially in the Brij region. Girls playfully hit their partners with twigs.
In the southern states, people worship Kamadeva, the God of Love.
This festival is mainly celebrating new beginnings, compassion, and forgiveness.
Some places will celebrate Holi on 28th March (Sunday), and others will celebrate on 29th March (Monday) this year.
Diwali
Diwali, also known as Deepavali and Tihar in Nepal, is celebrated when Lord Rama returns to Ajodhya after he has been an outcast for 14 years.
People light diyas, decorated the home, burn crackers, distribute sweets, draw rangolis, and wear new clothes.
Some people also worship the Goddess Lakshmi, who is the Goddess of Prosperity and wealth. Some worship Lord Ganesh who is for ethical beginnings.
Goddess Kali is worshipped in West Bengal and Odisha, with Mantras and different tantric rituals at night.
People who are Sikh celebrate it as Chor Diwaas or Baandi. The light and decorate the Golden Temple in Amritsar and burn fireworks.
In Karnataka, Diwali is a 5-day event, and they worship Lord Krishna, especially in the Braj area. The people also worship the Govardhan Mountain. This year it was celebrated on 4th November (Thursday).
Navratri
It is an important festival in the country and is celebrated by a lot of people in India.
In Gujarat, it is celebrated for nine days, and people do Dandiya Raas dance and Garba nights. People are dressed in traditional clothes, and the environment is refreshing and youthful.
Hindus fast during Navratri, and there is a scientific reason behind it. When there are seasonal changes, people should fast so that the digestive system can rest, and it also boosts the immune system.
The festival worships Goddess Amba, the deity of power, and her nine forms.
This year it starts on 7th October (Thursday) and end on 15th October (Friday).
Kutch Rann Festival
The longest festival under the list of festivals of India is the Rann Utsav.
It is celebrated in Gujarat, and it is an event where the celebration of music, dance, and extraordinary view of the white Rann. On full moon night, the place looks splendid.
There are fairs to celebrate this festival on the bank of the river. Moreover, this place is famous for adventures like camel riding, paramotoring, and horse riding.
Different events also happen, such as games, traditional dances, giant chess, and bird watching. Moreover, the colorful decoration on the white sand is a pleasing sight to the visitors.
The event will start from 12th November (Friday) and will end on 28th February (Monday) next year, 2022.
Ganesh Chaturthi
It is a 10-day festival that happens mainly across Maharashtra, Kerala, Rajasthan, Andhra Pradesh, and Goa. Big Ganesh idols are made and kept outdoors as well as in homes.
Pandals are made, and rituals are done both in the morning and evening. This festival is to celebrate the birthday of Lord Ganesh.
Dancing, music, and other activities are held as well, as a lot of people do free blood donation campsites during the festive season.
The event will happen on 10th September (Friday) this year.
Rath Yatra
Rath Yatra, or the Festival of the Chariots, happens in the city of Puri, Odisha. There are three deities of the temple; Lord Jagannath, Goddess Subhadra, and Lord Balabhadra. For the celebrations, the idols are removed from their temple and kept their separate Chariots.
All the chariots are move around the city so that devotees can see the deities.
Lakhs of people visit during Rath Yatra even international channels live broadcast this festival.
The event will happen on 12th July (Monday) this year.
Final thoughts
The country celebrates many more festivals, but we could only mention a few on our list of festivals of India.
If you plan to visit during a festival, you need to plan and book your tickets at least 5 to 6 months before the festival.
You can also find Indian festivals pictures chart on the internet, which has many festivals. Further, it will help you to keep track of the various festivals.
Let us know which festival you are planning to visit in the comment section below.
Any Ideas / Suggestions About This Topic