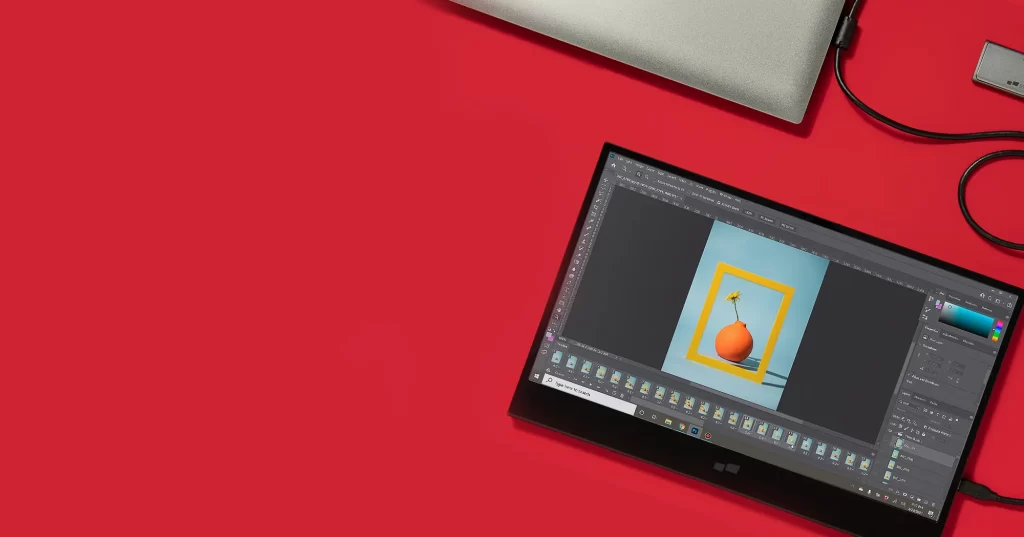 A portable second monitor offers numerous benefits for professionals like video editors. It is compatible with the latest laptops and works wonders to finish photo and video editing projects. These monitors are even popular among gamers, web designers, coders, and programmers.
The latest portable video editing monitors are much better than previous models. What once seemed like a distant dream is now possible, thanks to the launch of high-quality portable monitors. Imagine editing your client's work while traveling or commuting, or adding a second screen to your workstation. This ensures better video editing results and more work done in less time.
Whether you work with Windows, Android, or Apple computers, these handy monitors can easily connect to your devices. Video editors can multitask and add better effects, since they have better access to multiple video-editing apps and software all at once.
Professionals are always on the lookout for the latest and most efficient accessories. The Glance portable second monitor from Mobile Pixels is an excellent choice when buying the best one for video editing projects. The portable dual-screen laptop monitor is guaranteed to boost your productivity by up to 50% and allows efficient multitasking.
Benefits of Buying a Portable Second Monitor for Video Editing
The most effective way to work is through a laptop. However, if you are a busy video editor who is always on the go or works remotely, you need a setup that can help you work, regardless of location. That's when portable monitors come in handy. They provide more screen space and let you work on multiple video editing software without switching between tabs or programs.
Most of them come with HDMI and USB Type-C ports, so users can connect them and display visuals easily.
Users prefer using portable monitors as an additional screen for the following benefits:
They improve your editing skills.

You stick to essential tasks since you don't have to shuffle between tabs.

There is less stress because you can concentrate better due to fewer distractions.
Here are some other benefits of using a portable monitor:
Portability
Thanks to their lightweight and sleek design, these monitors are highly portable. You can easily fit it into your backpack or luggage. Video editors who are frequent travelers or students can set up a study/play/workstation within seconds.
Compatibility
The latest portable monitors can easily connect with most laptops and desktops. However, specific portable monitors may have special requirements for compatibility. Ensure your device's specifications match the portable monitor you wish to purchase.
Orientation
Portable monitors have the advantage of switching from portrait to landscape mode. That's quite a benefit for professionals like coders, web designers, or video editors. Users can see the content more clearly in portrait mode to simplify their job. In addition, users can easily view the whole picture by turning the monitor from landscape to portrait mode. Choose a portable monitor featuring landscape and portrait modes to boost your productivity and ease of editing.
Connectivity
What use is a monitor if you can't plug it into your device? Although compatibility with HDMI or DisplayPort may be beneficial, the new standard is a Type-C USB port. A USB-C cable is necessary for your portable monitor because it can provide high-speed connectivity and advanced graphics.
Type-C ports are more refined in design and guarantee reliable data transfer. For example, a USB 3.1 Type-C port can transmit 4K videos. In addition, Type-C ports support reverse charging and larger currents, from 3 A to 5 A.  
Size
With portable monitors, size is a crucial factor. Although most of today's latest portable monitors are larger than typical laptop screens, find a portable screen that's just the right size for your editing needs. For example, do you need a monitor for using it while commuting? Do you want to carry it around while moving around? Even if you need an extra monitor screen for your workstation at home, it should be big enough to see all visuals.
Final Thoughts
A portable monitor has all the bells and whistles for excellent video editing. So, whether you're going to set up a mobile workstation to maximize your productivity or need to expand your screen size while you're on the go, a portable second screen is a valuable addition.
Look for a portable monitor with connectivity options and light enough to carry around easily. Finally, video editors should look for a device that fits their budget.
Any Ideas / Suggestions About This Topic