As we approach Valentine's Day, you must be wondering how to surprise that special person in your life on this lovely occassion. Personalized romantic gifts items solve a lot of your problems at your predefined budget. We are here providing you with a perfect solution. To enjoy this romantic season, we have enlisted 10 personalized romantic gifts for him or her under the price of $20 for you. Check them out below:-
Personalized Vouchers of Love
Searching for something unique for your loved ones? Personalized romantics gifts for him & her should solve your problem. You should definitely check out these personalized vouchers of love. There are 12 different coupons, each serving its own unique purpose, and also redeemable for your loved ones!
It includes
Foot massage
Full body massage
Breakfast in bed
Couple Dinner
Romantic gateway
Make up session
Bubble bath
Fantasy of choice
Household chores
Movie of choice
Exclusive control of remote
Surprise your special one with this amazing collection. We can ensure you won't regret these.  A gift wrapped with a satin ribbon. Easy to carry, you can drop them off in your partner's wallet, handbag or pockets and then watch their reaction in glee. Priced only at $9.95.
Heart Compact Mirror
This personalized silver plated heart shape mirror gift is perfect to remind your special one of your affection. It's a perfect gift for him or her a special occasion. Compact and sturdy, it contains both a regular and a magnifying mirror.Time to intertwine vanity and admiration. Priced at only $19.97 this should definitely be on your shopping list.
Perfect Match Personalized Wood Puzzle Piece
Surprise your loved one with this perfect match personalized wood puzzle piece. You can engrave it with any name of your choice and also get the option of a one line message or 3 quotes which will create a special kind of bond. This unique and sentimental gift for him and her is specially made for anniversaries and birthdays. You can also grab special edition Valentine's Day pieces. It also includes a wood stand too for tabletop display. So let your special one fit the last piece of the puzzle and rekindles your love. Remember, finder's keepers.  Priced at $19.95 this laser engraved puzzle piece is a work of art.
Small Cosmetic Bag
Personalized small cosmetic bag, the most suitable gift for your partner to celebrate a romantic gateway. The bags are available in four different vibrant hues, namely shimmering white, shiny silver, fabulous fuchsia and bold black the bags are made of water repellent vinyl with a soft satin finish. Priced at only $16.97 they have zipper closure and you can also engrave a letter of your choice on each bag. So what are you waiting for? This is your chance to grab them.
Rhinestone Monogram Personalized Red Mug
Put a smile on their face in the morning. This exclusive rhinestone monogram personalized red mug for him or her will surely add a little sparkle to your life when your loved one sips their choice of beverage on it. You can also add any letter of your choice and customize it accordingly, like her initial monogram. The mug is made of ceramic with a velvety red hue to match it. It features designs both inside and outside and can handle up to 16oz. Priced at only $19.95 this will surely add flame to your love life.
Initial Arrow Mason Jar
Make every sip of your loved ones sweeter with this personalized initial arrow mason jar for him & her. These will surely engulf you in nostalgia of the days when it all began. You can get a single one or a set too for each of you as a warm gesture towards your partner. A single jar costs $16.99 while the pair costs $24.99. The jars have some unique features, namely-
Made entirely of glass.
You can engrave them with any initials of your choice.
Bonus feature, there will always be a heart symbol engraved between the initials.
You can safely wash them with your dishwasher.
Holds a quantity of 16 oz.
You can enjoy your choice of beverage together chatting like the good old days, while reminiscing your romance with these jars. Perfect for reigniting that spark.
Pewter Medallion Shot Glass
A heart warming gift for you anniversary or any romantic date of importance of your life. Celebrate that special day with a drink, and what better way to do that by using this personalized pewter medallion shot glass. You can choose from a variety of 5 types of medallion options and also customize it with your special one's name engraved on it. You can enter up to 12 characters thus also recording a personalized message for your loved one. The volume is 2.25 oz. Priced at only $17.97 this is definitely worth your buck.
You're All I Need Personalized Keepsake
This is a perfect gift for him & her celebrating that special moment with your loved one. This you're all I need personalized keepsake is the perfect memento remind the special person in your life of affection and love. Both the initials of you and your partner will be engraved specially through hanging hearts. You can also engrave the name of your special one beside it and also decide a message of your choice to be displayed beneath it. Or you can also choose from two verses provided by us. This glistening and sparkling gift is made specially keeping valentine's day in mind. Priced at only $19.95 this one is a must buy.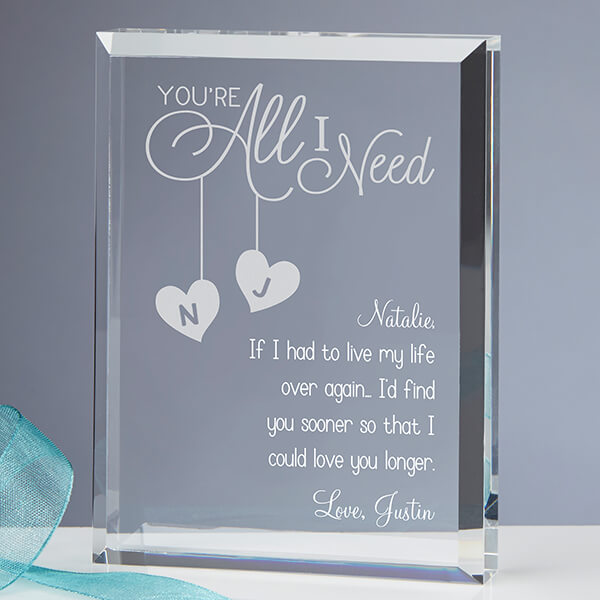 Love Connection Personalized Photo Puzzle
Remember how you wanted to capture that special moment with her? Just framing a special photograph is too mainstream. You must innovate. So why not try this love connection personalized photo puzzle? You can choose any photo of your choice and gift this to your partner. Then watch her being moved as she slowly encounters it and fits the last piece of the puzzle. You won't ever forget the smile on her face. The puzzle is made up of sturdy cardboard and also displays an unique design. It will include 75 pieces to be put together. Priced at only $16.95 it also comes in a beautiful drawstring bag which will surely amaze your partner more.
Circle of Love Personalized Sun catcher
A glint edged gift to brighten up your day! This circle of love personalized sun catcher will add a personal touch to your room. You can hang it on the window or also on the porch so that it reminds you of your bond every time you see it. You can also engrave each other's names and also any year of your choice. Having a diameter of 3 inch it is completed with a ribbon attached to it for hanging. Though originally priced at $14.95 it is now available at a discounted rate of $7.50. so this is your chance to save up to 49% for this stunning gift which will surely remind your partner of your feelings towards him/her.
So what are you waiting for? This is the time to grab these personalised heart warming romantic gifts for her. Display your affection towards them with a sentimental romantic gift for her or him. This romantic season, these surprise Personalized valentine gifts will surely bloom your love life to a greater extent.
Any Ideas / Suggestions About This Topic