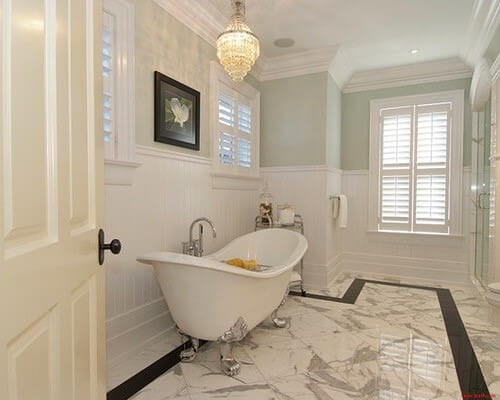 So you're thinking of remodeling your bathroom. It's a great idea. Not only will a nice, freshly upgraded bathroom add value to your home, it can also be a luxurious room to pamper yourself in…not to mention a showpiece for guests!
Many people can come up with a color scheme fairly readily, but what are some stylish additions or design elements that will make your bathroom something special?
A great design combines functionality with beauty. That's what is so clever about many of the following suggestions. They are designed to make life easier while also being easy on the eyes. Companies like Smart Style Bathrooms are experts at coordinating all the elements into a simple process.
Here are the top ten trends we see in modern bathroom design.
Guaranteed to get your creativity into high gear:
Spa Shower.
Many designers are now suggesting a spa-style shower rather than a tub. These can take the ordinary shower to the next level by adding body sprays and rain style shower heads that are positioned directly above the user.
These are usually completely tiled, and may or may not have a glass partition or door. An open design allows you to just walk in. Benches and shelves for soap and shampoo can be built right into the walls.
There are practical advantages as well. They are open and easy to clean and can make the bathroom look much bigger. Also, people who may have trouble stepping into a tub will find them easy to use. Most spa showers have a very low profile threshold or "curb" to step over, or none at all.
Radiant heating.
This is an excellent feature that can eliminate the cold floor syndrome forever! There's nothing quite like the gentle, even heat that a radiant floor system provides.
It is generally more efficient than most other methods as well. There is no heat loss as with ducted air systems, and a much larger area is heated than with baseboard heat.
If your room is already heated by other means, you needn't install a complete radiant system. Low energy heat mats placed under the flooring just in strategic spots, will provide satisfying warmth. In front of the vanity, shower, and toilet are smart options.
Furniture-style cabinetry.
Another great idea that is gaining popularity is to use freestanding cabinetry. It may be an antique or specialty piece. An armoire or other piece coordinated with the vanity and built-in cabinetry will also add interest.
For that matter, the vanity itself can be upgraded to more than a typical bathroom cabinet. A freestanding cabinet can be used, but of course it will no longer be moveable because of the plumbing connections.
This allows an almost endless variety of possibilities and raises the humble bathroom to a new level of elegance.
Vessel sink.
One of the hottest trends in bathroom sinks right now is what's commonly called a vessel sink. Cleverly crafted to look like a bowl that is sitting on top of the vanity, they add interest and beauty to the common bathroom!
These modern looking sinks come in every type of material from glass to porcelain, stone, metal and beyond.
Many of them that have rounded bottoms can either sit directly on top of the countertop or be "recessed" into the top. In other words, a larger hole cut in the countertop allows the sink to sit down in a bit. So you have a lot of flexibility in your design.
Whatever style you choose, these attractive sinks are sure to be a focal point of your new bathroom.
Freestanding tubs.
While the whirlpool tubs and jacuzzis that were popular in the past seem to have lost some appeal, freestanding bathtubs are definitely in. These also come in a stunning variety of shapes, sizes, and materials.
Since this will be a major addition to your bathroom, you will want to carefully plan out the dimensions for placement and which material will work best for your circumstances.
Upgraded lighting.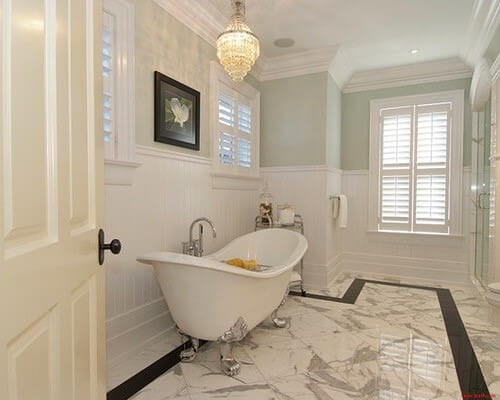 Lighting is crucial to the success of a bathroom design. The beauty and functionality rule definitely applies here. Bathrooms need overall or ambient light, as well as lighting for the vanity mirror, commode area, and shower or tub.
Many designers suggest using upgraded lights, such as small chandeliers, or pendant style lights which drop down from the ceiling. These disperse the light very evenly and can really add a touch of class.
As for lighting up the mirror, what usually works best is a wall mounted light on either side of the mirror. A beautiful set of sconces or similar matching fixtures will do the trick. This design is gaining popularity over the more common light bar above the mirror. The double light design virtually eliminates shadows. It's also said to show the user in a more flattering way, and who doesn't like that?
Hidden commode.
If space allows, a very nice feature that can be added during a bathroom remodel is to create a separate area for the commode. It can be in a small room with a door, but even just a wall or half wall will do.
The idea is that the toilet is not immediately visible when someone looks into the room.
Obscured glass.
Gone are the days of the glass bricks to let light into private areas. Most modern remodels use what is called obscured glass. This is glass that is manufactured to have a pattern or texture to its surface, allowing light in, but preserving privacy.
Obscured glass comes in a great variety of looks, textures and even shades of color, so you will be sure to find a style to match your decor.
Efficient fixtures.
While you are remodeling, you might as well plan on going green as well! A common trend in many industries applies just as much to bathrooms: efficiency.
The savings can add up. Did you know that toilets account for nearly 30 percent of the water used in the average home? Many older style toilets use several gallons per flush. That's a lot of wasted water! You can find wide variety of water-conserving commodes at your local home center. The best use as little as 1.28 gallons per flush with no loss in performance.
It's very similar with shower heads. The daily shower uses up about 17 percent of the typical water budget. Choosing a shower head that reduces use to under two gallons per minute is the environmentally friendly thing to do.
Specialty tile.
Plain white squares have their place, but it may not be in your new bathroom! Today, there is a stunning variety of tiles to choose from. Not only colors but a wide variety of materials and textures give you an almost unlimited palette to choose from. Pinterest is actually a great place to check out some of your options and get inspiration.
Hopefully these trends have helped you to get some ideas on what you would like to have in your bathroom.
With a little research and planning, you'll be sure to turn your bathroom into a very special part of the house that you'll be proud of for years to come. Visit Tradesignshop.co.uk for more designs and information.