14th Feb.. Koreans Valentine's Day….
Valentine's Day in Korea or any of the love holidays is celebrated in a slightly different way than the rest of the world. When it comes to being lovey-dovey, Koreans can really give others a run for their money. All over the world we see that on Valentine's Day usually the guys try to make the day special for their girlfriends or wives. However, in Korea on the 14th of February the girls and the women profess their feelings for the guys they like.
The guys on the other hand profess their feelings to the women in their lives on the 14th of March known as the White Day. So, both the men and women take it in turns to express their feelings. In a way this is really helpful because no one feels neglected.
But how do they celebrate this joyous occasion? How do the Koreans celebrate love? How is Valentine's Day celebrated!
They Make Personalized Chocolates
Giving chocolates on Valentine's Day is almost mandatory in Korea. This tradition is so popular that you can barely walk down the streets before Valentine's Day without seeing displays of chocolates in the stores. However, for the people who are truly in love with their significant others can never dream of buying chocolates for Valentine's Day. So, they make homemade chocolates personalized for the person they love.
The women try to make chocolates shaped like the face of their beloved or something that is related to them in some way. In other words, the gift has to be such that it remains close to person's heart. The hard work and the love should show because the idea of Valentine's Day is to let your beloved know how much he means to you.
 They Make Something Together
Korean couples love making things together and there are different places where couples can visit and make something together. For example, there are places where you can have unpainted ceramic dolls that can be designed by the couples using permanent markers. The end products are meant to be given as gifts to the significant other. There are places where you can actually get a plastic mould in the shape of your pout.
In 10 minutes your pout can be turned into a plastic keychain or cell phone charm which will help your beloved to carry a piece of you at all times. Couples can also make romantic flowers arrangements for their homes. It is not about what you make but it is about how you spend the time with each other. The entire experience of doing something together makes this holiday very special for people in love.
Korean Declare Love To The World
Every official couple in Korea needs to declare their love to the world. Unless you do you cannot be called an official couple. Luckily for all the couples, there are many places for such a confession making it convenient for the youngsters. Some of the famous locations include the Namsam Mountain or the rooftop of the Ssamziegil.
Couples can buy love tags, write their own beautiful message or love confession and tie them with thousands of other declarations of love. But since February is still a winter month some people might not like the idea of being outdoors for too long. For people preferring to stay indoors there are cafes where they can hang their messages written in pieces of paper. These cafes also provide free refills of tea and coffee for the couples who are trying to spend a romantic day within a budget.
Korea Wear Matching Outfits
In Korea, perhaps none of the couple holidays can ever be complete without couples wearing matching outfits. While this might more be in fashion during the warmer months but there are many options in winter wear as well. Matching outfits are an important part of the 'couple look' among the Korean Couples.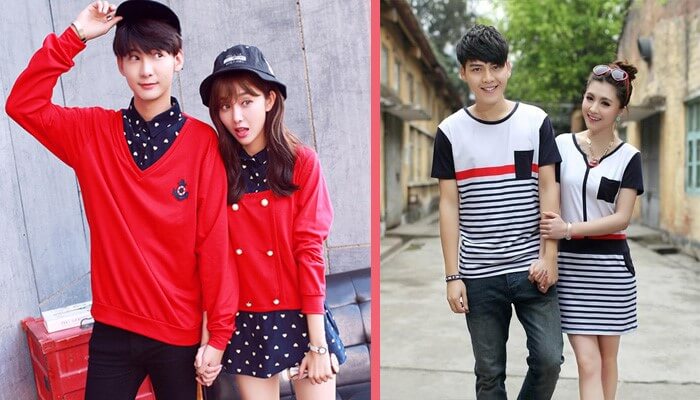 There are stores all over the country that sells matching clothes for couples. The hottest commodities are sneakers or shoes and jackets. Some couples are not usually ready to wear matching shoes because of commitment issues. So, for them matching gloves and even lingerie are available. Guys getting animal printed lingerie, do not get upset. Just thank your lady love and use the month ahead to regain your loss of masculinity before the White Day arrives.
14th March..White Day…
In Korea, this day is dedicated to all the women. It is the man's turn to show their affection towards the girl they like. This day gives them the opportunity to do something in return for all the Valentine's Day surprises. The name stems from the fact that mostly white gifts are exchanged or given as a token of love. If you are away from your beloved then you can easily send romantic flowers to Korea all in white or any other gift you like.
White chocolates are a must have for the 14th of March but in the recent years both white and dark chocolates seem to be doing rounds as White Day presents. Men in the country maintain the 'Rule of Three' when it comes to giving White Day gifts. This rule says that the value of the gifts given on this day should be roughly three times the value of the gifts given by the women on Valentine's Day. While this is not a strict rule or is widely practiced but many people do view it as a legitimate rule for reciprocal gifting.