Independence day quotes on ones own nation has a strong captivating influence and we can't help but, go back to the past when our great leaders were fighting for freedom. The Independence Day Quotes below have a patriotic vibe and the real spirit of the nation naturally gets exchanged through them. As Independence Day is around the corner and one of the best moments for the people of any country as the feeling of free is absolutely a different one. In order to commemorate the great leaders, Scoopify shares most inspiring Independence Day Quotes from freedom fighters of India, heap of Indian Independence Day quotes and other inspiring freedom quotes.
Scoopify wishes you and your family Happy Independence Day!
1
Independence Day Quotes from freedom fighters of india
Check out these inspiring Independence Day Quotes by freedom fighters of India & get inspired and hold your head high being an Indian!
Lal Bahadur Shastri
Sardar Patel
Sarojini Naidu
Ram Prasad Bismil
Lala Lajpat Rai
Ashfaqulla Khan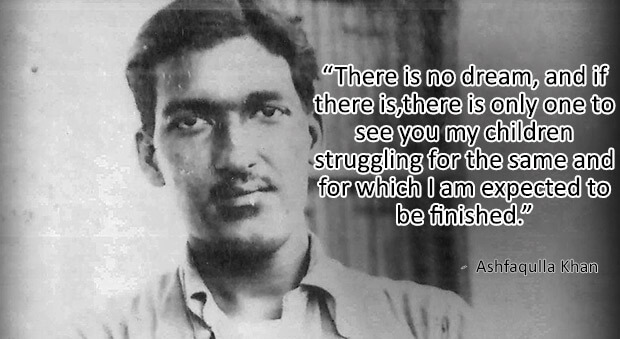 Netaji
Bal Gangadhar Tilak
Pandit Nehru
Bhagat Singh
Mahatma Gandhi
Dr. Rajendra Prasad
Annie Besant

B. R. Ambedkar
Chandra Shekhar Azad
Thy spirit, Independence, let me share! Lord of the lion-heart and eagle-eye, Thy steps I follow with my bosom bare, Nor heed the storm that howls along the sky.
One individual may die for an idea; but that idea will, after his death, incarnate itself in a thousand lives. That is how the wheel of evolution moves on and the ideas and dreams of one nation are bequeathed to the next
Freedom has its life in the hearts, the actions, the spirit of men and so it must be daily earned and refreshed – else like a flower cut from its life-giving roots, it will wither and die.
Independence Day Quotes And Sayings
Where the mind is without fear and the head is held high;
Where knowledge is free;
Where the world has not been broken up into fragments by domestic walls;
Where words come out from the depth of truth;
Where tireless striving stretches its arms towards perfection;
Where the clear stream of reason has not lost its way into the dreary desert sand of dead habit;
Where the mind is led forward by thee into ever-widening thought and action–
Into that heaven of freedom, my father, let my country awake.
Mother, I bow to thee! Rich with thy hurrying streams, Bright with orchard gleams, Cool with thy winds of delight, Green fields waving , Mother of might, Mother free. Glory of moonlight dreams, Over thy branches and lordly streams, Clad in thy blossoming trees, Mother, giver of ease, Laughing low and sweet! Mother I kiss thy feet, Speaker sweet and low! Mother, to thee I bow.
For some days, people thought that India was shaking. But there are always tremors when a great tree falls.
Even if I died in the service of the nation, I would be proud of it. Every drop of my blood… will contribute to the growth of this nation and to make it strong and dynamic.
Independence Day Slogans
I love India. Vande Mataram!!
Madan Mohan Malaviya –"Satyameva Jayathe" (Truth alone will win)
Bal Gangadhar Tilak —"Swaraj is my birthright and I shall have it"
Subhas Chandra Bose — "Delhi Chalo" and "Turn Mujhe Khoon Do main Tumhe Ajadi Doonga" 'Our nation is like a tree of which the original trunk is swarajya and the branches are swadeshi and boycott'
BAL GANGADHAR TILAK — 'Whatever difficulties we may face, we must never give up the quest for truth, which alone is God himself.'
GANDHIJI — 'Apparently, I've acted like a terrorist. But I'm not a terrorist'
BHAGAT SINGH — 'The essential thing in religion is making the heart pure. The kingdom of heaven is within us but only pure' heart can see the 'king'!'
SWAMI VIVEKANANDA — 'Give me blood. I will give you freedom.'
Any Ideas / Suggestions About This Topic