Planning to go to a fancy restaurant? If you are looking for that hatke experience, then Real Poseidon India's first underwater restaurant might be just the place for you. Considering, you're willing to go all the way to Ahmedabad.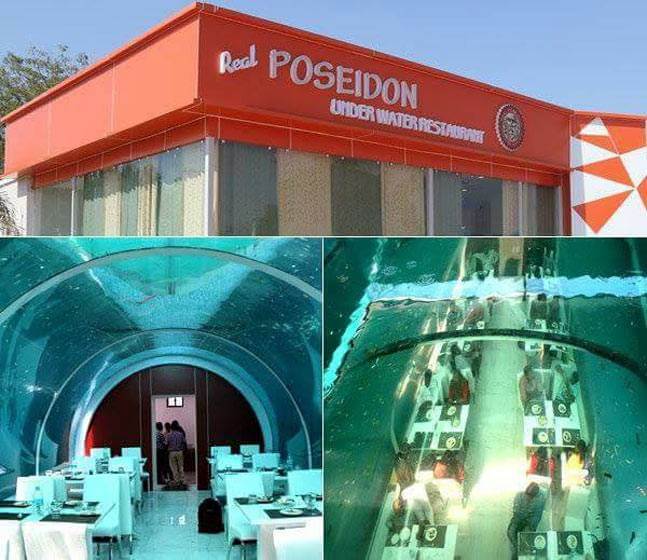 Underwater restaurants give us an incredible dining experience. And at the same time they, also fascinate visitors from across the globe. And now, India has its own underwater restaurant "Real Poseidon".
The restaurant is named after Posiedon – the sea god, the 32-seater underwater restaurant opened its doors for diners on 1st February 2016, the restaurant is covered with an overhead aquarium containing 4,000 species of fishes and 1,60,000 litres of water and is built 20 feet below ground level!
The menu at the restaurant offers a wide range of cuisines including Thai, Indian, Chinese and Mexican. You'll get everything other than, fish which is only available for you to look at while dining.
Bharat Bhatt owner of Real Poseidon says "Guests only need to take the stairs down to a tunnel-based dining hall of 1,200 square feet, where they can dine while enjoying the view. While there could be aquarium-based restaurants in Surat, we feel this is the first underwater restaurant in the city."
Bharat Bhatt is businessman based in Ahmedabad, he conceived the design of the underwater restaurant while discussing this idea with his son and two years later the idea became a reality.
Here are some interesting features of the restaurant:
1. The restaurant is spread across 3000 square ft, filled with 1,50,000 litres of water.
2. 4000 different species of fish as well as marine species were sourced from local markets of Rajkot, Ahmedabad and Vadodara.
3. The restaurant serves pure vegetarian food from different cuisines including Thai, Punjabi, Chinese, and not to forget Mexican.
4. It has a 32 seaters (1,200 square ft) dining hall.
5. Future plans for the restaurant include, a live orchestra/band for the entertainment of the diners.
Watch the restaurant video for a better look at the restaurant: