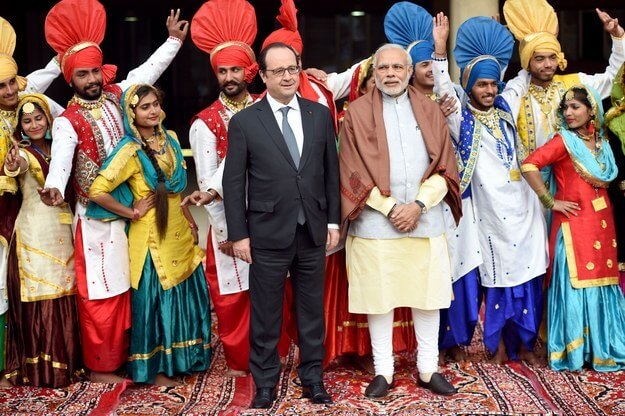 French President Francois Hollande is visiting India as the chief guest at the Republic Day parade on Tuesday.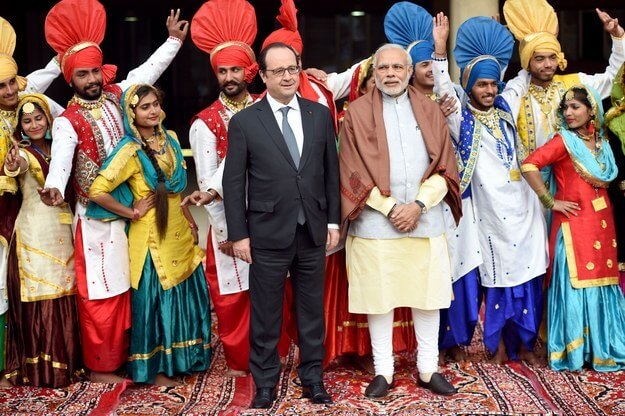 And, as one would guess, his pictures with PM Modi become topic to the internet's unforgivingly entertaining captioning skills.
1.
Trying to find the right spot to place your life size François Hollande action figure pic.twitter.com/sPKqKUtsJa

— Daaniyal (@le_Sabre) January 24, 2016
2.
After the Awkward Hug, Holande turned back to escape Modi but… pic.twitter.com/VyIcjbnTqa

— Joy (@Joydas) January 24, 2016
3.
President Hollande and PM Modi engaging in back to back talks. pic.twitter.com/2VBu2bb7hr

— Ray Ban (@Purba_Ray) January 24, 2016
4.
Good that the PM is personally frisking Hollande. Never trust the French. pic.twitter.com/ZXNkF36Jpi

— Scotchy (@scotchism) January 24, 2016
5.
Close enough pic.twitter.com/nurlY8NSDf

— Miss Lovely (@HighHeelsWali) January 24, 2016
6.
When you love Hershey's Kisses so much you wear them to work. pic.twitter.com/EOKZEQjeyP — k (@krazyfrog) January 25, 2016
7.
Hollande: Let's go for lunch? Modi: Hard Rock Cafe? Hollande:… Modi: LOL pic.twitter.com/J47WxdObSc

— Sahil Shah (@SahilBulla) January 24, 2016
Also read Top 21 Cheer Up Meme's That'll Instantly Lift Your Mood
8.
New level in bilateral ties unlocked pic.twitter.com/Q3Rh9FMZjm — Taz (@xtahzy) January 24, 2016
9.
Welcome to India. Will you be France with me. pic.twitter.com/U4TEuD0NDz

— Ramesh Srivats (@rameshsrivats) January 24, 2016
10.
"Boss, Dadar nahin utarna hai toh thoda side ho jaao!" pic.twitter.com/H3giQZszBO — Aisi Taisi Democracy (@AisiTaisiDemo) January 24, 2016
11.
"Kya aapke toothpaste mein namak hai?" pic.twitter.com/T4BipkpO1J

— eSEWAK #Gauputra (@sabeaux) January 24, 2016
12.
when ur budget for titanic remake is 10rs pic.twitter.com/iYZB6rl6v2 — clement attle (@daddy_san) January 24, 2016
13.
"Mr Francis, here comes my Hollande" pic.twitter.com/Zr6uvmfprU

— Gabbbar (@GabbbarSingh) January 24, 2016
14.
Shake it Daddy Shake it Shake it Shake it Daddyyyy! pic.twitter.com/4iL1tq5OCx — Ankur Bhardwaj (@Bhayankur) January 24, 2016
15.
Monkey baat with monkey cap. pic.twitter.com/XDNHYJDwkn

— Shivam (@GhantaGuy) January 25, 2016