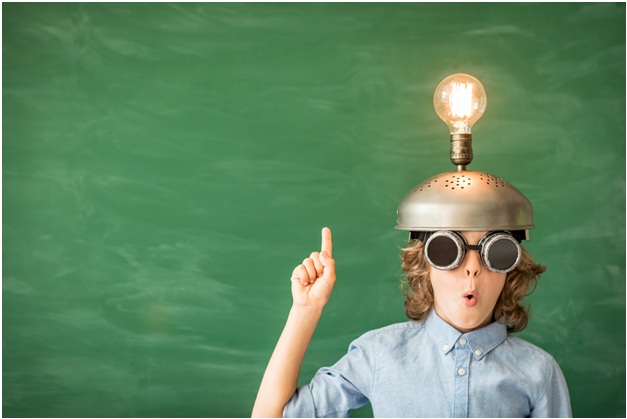 Before the rise of social media platforms, some businesses were skeptical about social media advertising. Those businesses that did not invest in building a social media presence are slightly behind those that did. Similarly, GIFs are growing at a rapid speed as more audiences find them relatable and light-hearted. Still worried about using GIFs in your videos? Will using GIFs make your business video look less professional? Let's find out.
In this blog, we will cover the following-
What is a GIF?
Why you must use GIFs for your business video?
How to find and incorporate GIFS in your business video?
What is a GIF?
GIF is a format that supports both static and animated images, GIF decodes multiple pictures in a sequence (like a flipbook) that makes the file appear animated. GIFs are gaining popularity not only due to the meme culture but because they easily communicate emotions and ideas.
A lot of businesses have started using GIFs as a main form of marketing to reach out to relevant audiences and appear accessible as a brand.
Why you must use GIFs for your business video?
Some companies fear using GIFs for their business video as they think it will make their business video look less professional. However, this notion is far from reality. There are innumerable reasons to use GIFs for your business videos-
Spike in Engagement
Businesses who incorporate GIFs in their business videos notice a spike in their engagement. This is because GIFs look great on social media feeds as they're vibrant, funny, and communicate more by doing very little. GIFs are supported across all social media platforms and are encouraged by millions of users.
Heightened Interest
Since GIFs are exchanged quite commonly amongst friends and family. It increases curiosity when you see a brand putting up GIFs. The heightened interest makes the consumer want to engage more with your social media content.
Displaying brand personality
When a brand uses GIFs it comes across as approachable, unlike businesses that want to project a larger-than-life image. We recommend using GIFs in your business videos if you want your audience to connect and relate to your brand. Using GIFs won't make your business video less professional, if it is done in a smart way GIFs could increase your brand's recall value.
The consumers will enjoy your brand's creatives and go on to purchase your product or use your services.
How to find and incorporate GIFS in your business video?
Selecting an appropriate GIF and incorporating it into your business videos is an art in itself. So where would you find the best GIFs that would easily be incorporated into your business videos? Clipchamp's video editor has the best user interface to add GIFs to your business video without having to step out of the video editing software's window.
Here's how you can easily add a GIF to your business video-
Step 1: Sign upor Log in to your Clipchamp account
Step 2: Click on Create a video or search the template library for a suitable template for your business video.
Step 3: Import your video clips and adjust them according to your requirement.
Step 4: Once you've arranged your business video find the pointers or specific place where you think GIFs will create an impact. Click on Graphics on the left side panel.
Step 5: Once you've opened the Graphics panel, you will find multiple panels containing, Backgrounds, Overlays, Giphy, and stickers. Click on the arrow beside the GIPHY panel and it will expand and allow you to search through all the GIFs available on GIPHY.
Step 6: You need to hover your cursor on the GIF that you want to add a plus sign will appear that says 'Add to timeline'. Click on 'Add to timeline' and voila! Your GIF will be added to your timeline.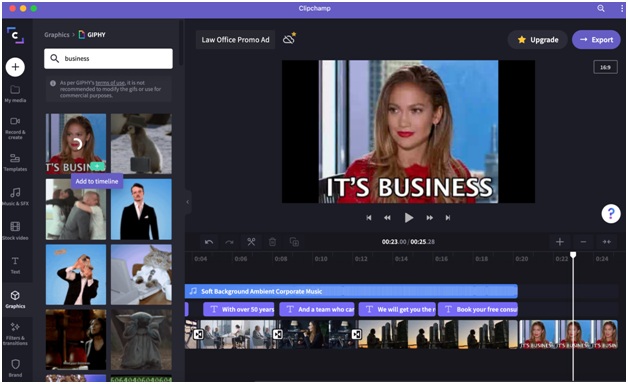 Step 7: You can play around all you like and customize your business video. Once you've finalized your video you can click on export to save your file.
Before we concluded, we would want to bust few myths about using GIFs in your business videos-
a) Using GIFs will tarnish your company's image- It's the opposite, GIFs take your company to the 'cool' zone. Your business will be easily accepted on social media if it uses GIFs.
b) GIFs are for kids- GIFs are widely accepted, exchanged, and consumed by most age groups.
c) You can't add GIFs to videos- Contrary to popular belief, as showcased above you can easily add GIFs to your videos using a video editor.
With GIFs, you can connect to more people regardless of their age group as it tends to appeal to almost everyone. Your business meetings, seminars, websites, and social media platforms will never feel monotonous.
Adding GIFs to your business videos will lighten the atmosphere and bring in a positive approach that will be seen in your team members, so try to add GIFs to your video today.