Texas Holdem poker is one of the most popular card games in the world, and it has become even more accessible since its introduction to online platforms. Playing Texas Holdem online can be both exciting and lucrative for those who know how to maximize their chances of winning. In this article, we will explore some useful strategies that you could use for playing Texas Holdem Poker online, so read on to learn more!
Utilize Online Tools to Improve Your Gameplay
Poker tracking software and heads-up displays (HUDs) are essential instruments when learning how to play Texas Holdem poker online. Poker tracking software allows you to record every hand you've played and provides useful statistics on your overall success. HUDs enable you to quickly analyze your opponents' tendencies so that you can adjust your strategy to exploit their weaknesses.
Also, studying strategies written by experienced players can greatly improve gameplay. Many websites offer free downloadable strategy guides or tips written by professionals that provide insight into various areas of the game, such as bankroll management, starting hand selection, and bluffing techniques – all of which are topics that are crucial to mastering Texas Holdem Poker Online. 
Take Advantage of Bonuses, Promotions, and Loyalty Programs
Bonuses are one of the best ways to maximize your winnings when playing Texas Holdem online. Many websites offer welcome or sign-up bonuses that give you extra money when you make your first deposit or play a certain number of hands. No-deposit bonuses are also available on some sites, allowing players to try out the game without having to risk any real money. 
Promotions can be another great way to earn free bonus cash while playing Texas Holdem online. Many sites run special tournaments and giveaways with prize pools in the hundreds or thousands of dollars. You may also find reload bonuses that give you extra cash whenever you make a deposit into your account. 
Loyalty programs, sometimes called VIP clubs, reward long-term players for their dedication and frequent play with bonus points that can be exchanged for cash prizes or merchandise. Some sites even provide access to exclusive tournaments and other special perks for loyal players. Joining these programs can definitely pay off if you plan on playing a lot over time.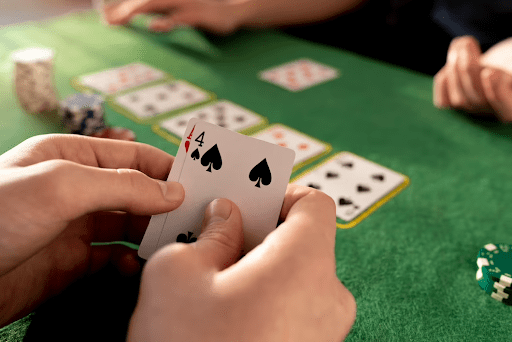 Manage Your Bankrolls Wisely
When it comes to playing Texas Holdem poker online, one of the most important skills you can develop is learning how to manage your bankroll. Here are a few tips on how to manage your bankroll when playing online poker:
1. Start Small
When starting out, it is best to begin with lower-stake games before moving up to higher-stake games. This will help keep your risk of losing too much money at a minimum while also providing an opportunity to observe the game and learn from other players.
2. Set Limits
Before beginning each session, set limits for yourself regarding how much time and money you are willing to spend. This helps provide structure for your sessions and prevents you from recklessly throwing in too much money or getting lost in the game for hours on end.
3. Manage Your Emotions
Similarly, it is important that you maintain emotional control during the game so as not to make any rash decisions due to excitement or disappointment over certain hands won or lost. Try not to get too attached or annoyed at specific hands since this will only lead to further financial losses if left unchecked over time.
4. Don't Get Greedy 
Finally, don't let greed take hold when playing Texas Holdem poker online, and always remember that in order to occasionally win big, you need to fold more often than not when faced with tough decisions during playtime. Being overly aggressive can also lead to big losses if other players catch on to what's going on, so resist the urge and instead focus on making wise decisions based solely upon the cards currently dealt.
Utilizing online tools such as poker odds calculators, tracking software, and heads-up displays can provide invaluable insight into how to play more effectively. Additionally, taking advantage of bonuses, promotions, and loyalty programs can significantly increase your winnings while playing Texas Holdem Poker Online. Finally, managing your bankroll wisely allows you to stay in control of the game without risking too much money or time for each session.
If you are looking for an online venue to put your poker skills to the test, then try GGPoker, one of the best Texas Holdem websites available to play Texas Holdem online for real money. GGPoker offers multiple beginner-friendly guides, tutorials, and even a Texas Holdem cheat sheet for individuals who are looking to learn more about the game and improve their skills. Head over now to GGPoker and sign up to be part of the virtual poker arena today!
Any Ideas / Suggestions About This Topic