Traveling around the globe, studying different cultures, and trying new adventures is enthralling and leads to a lifetime full of memories. Do you know what country happens to always make the list as one of the most desired destinations? For many consecutive years, New Zealand has been atop many travelers lists. In truth, there is a reason behind why millions of people around the world seek to travel to New Zealand – it's stunning, beautiful, and a land full of endless opportunity and adventure.
In today's article, we thought we would share some these endless opportunities and must-do tours when visiting New Zealand. For many readers, especially if this is your first time visiting the Kiwi country, each one of these tours is enough reason to pack your bags and go. With a rich and diverse culture, great food, and sceneries that can last a lifetime, let's head on over to New Zealand and see what you can do.
1. New Zealand Lord of the Rings Tour
It goes without question that one of the most popular attractions for tourists is a traditional New Zealand Lord of the Rings Tour. This tour is for avid fans of the series who would say, "Life is not complete until I travel to Hobbiton". Not only will this 16 Day New Zealand Lord of the Rings Tour showcase Hobbiton, you will get to experience 19 different locations, all which are incredibly famous and have been used for filming.
What makes this tour such a special and unique tour is that it's 16 days long and spans across both North Island and South Island. In other words, you will have the chance to explore the entire country on a single tour! Tourists on the tour will have the opportunity to take a helicopter flight of Mt. Doom and even witness the magic of the Weta Workshop.
2. Wilderness Lodge Nature Adventures – Lake Moeraki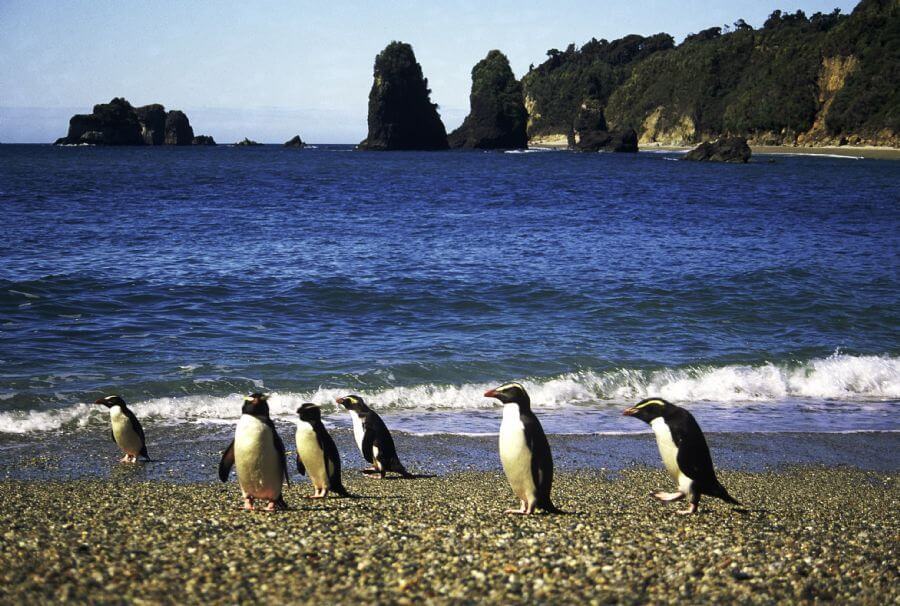 New Zealand is also known for their wealth of wilderness. For those who have never traveled to the country, it can be overwhelmingly beautiful. It truly feels as if this part of the world has been untouched by many of the modern marvels and technology advancements. So, whether you are looking to get away from the technology world or craving a beautiful nature vacation, schedule the Wilderness Lodge Nature Adventures tour of Lake Moeraki. This specific tour has a favorite among tourists for nearly 25 years. Here you will have the opportunity to spot or photograph dolphins, seals, and even penguins. You might even catch a glimpse of some rare birds in and around the rainforests.
3. Multi Day Sailing Holiday with Abel Tasman
Have you ever seen pictures of the beautiful waters of New Zealand? This country is known for its stunning beaches, bays, and waterways. One of the best ways to fully enjoy what the Kiwi country has to offer is through the Multi-Day Sailing Holiday with Abel Tasman. With this tour, tourists will receive a personalized and custom tour from a local who has proven experience and knowledge on the culture of the country. The best part about the entire tour is sleeping on the catamaran overnight so you can witness the beauty of a New Zealand sunrise and sunset. On these tours you might have the opportunity to catch some seals and snap some great photographs!
4. Auckland Maori Tour and Cultural Performance
New Zealand is one of the most cultural-rich countries in the world today. Much of their culture and history has been preserved for tourists to explore and learn about. If you are looking for a cultural experience, there is no better tour than the Auckland Maori Tour and Cultural Performance. This is an all-day adventure giving tourists the opportunity to snap pictures of some of the most beautiful sights and culture of New Zealand. If you have ever dreamed of seeking ancient volcanoes or learn the infamous Haka war dance, this is the tour for you.
5. Family Northern Explorer – Hiking New Zealand
Let's say you are planning a vacation with all of your friends or family and need a great adventure or excursion to plan? Why not check out the Family Northern Explorer – Hiking New Zealand tour. This is a two-day coastal hike to give families the opportunity to laugh and share life-time memories while appreciating the true beauty of the New Zealand coasts. On this tour, travelers will have the chance to sea kayak, sandboard, camp, and even drive along the infamous Ninety Mile Beach.
Where Your Journey Begins – New Zealand
If you have the opportunity to travel to New Zealand, don't doubt it, do it! There is so much beauty, culture, and excitement that awaits. Today, we covered five of the must-do tours on your next trip to the Kiwi country. We do advise that, before planning an official trip, communicate with tour providers in advance to ensure you can secure the tour or excursion you want during specified dates. You wouldn't want to travel to Middle-Earth to find out it's a bit busy or booked. Would you?