Are you heading to the Philippines soon? If it's your first time, you're in for a treat. The Philippines is a haven for tourists who'd like to explore pristine beaches, eat good food, and learn about the culture.
However, if you're only staying for a short while in Metro Manila and you don't have the time to go to Palawan, Siargao, or other locations that tourists mostly visit, there are a lot of things to do around the metro. Check out this list of the things that you can do in Metro Manila.
Learn About Marine Life In Manila Ocean Park
If you're a fan of underwater wonders, Manila Ocean Park is your to-go-to destination. The park offers various attractions aside from marine life, so you'd be able to see a lot of creatures and enjoy your tour.
All-Star Bird Show
The first show starts at 1:15 PM and the last show starts at 4:15 PM. You can get to see birds like eagles and macaws do amazing tricks, and maybe you'll be picked to participate in the show, too!
Augmented Reality Encounter
This attraction is open on weekdays from 10 AM to 8 PM, and 9 AM to 8 PM on weekends and holidays. This attraction is the first of its kind to launch in the Philippines, so it's one of the things that you have to try. Depending on the package that you'll choose, you can bring home copies of your photos and a unique Manila Ocean Park mermaid flash drive.
Back of the House
This part of the park shows how the staff takes care of the marine life residing in the area. If you're a fan of marine life and is interested in learning more on marine preservation and proper care, avail of this tour during your visit. This attraction is open on weekdays from 11 AM to 6 PM, and 10 AM to7 PM on weekends and holidays.
Fish Spa
After walking around the park, your feet might feel a little sore. A good way to help relieve your aching feet is to go to the park's fish spa. The spa is open on weekdays from 10 AM to 7 PM, and 9 AM to7 PM on weekends and holidays.
If you've never tried a fish spa before, there is nothing to fear. The nibbling fish or Garra Ruffa fish will nibble and eat the dead skin on your feet. It might be a bit ticklish, though, but the benefits are great. Aside from exfoliation, the enzyme from the fish saliva is good for skin cell growth.
The Oceanarium
The Oceanarium is the best way to get face-to-face interaction with majestic sea creatures. It boasts of 14,000 marine creatures, and you'll get to see all of these amazing creatures! This attraction is open on weekdays from 10 AM to 8 PM, and 9 AM to 8 PM on weekends and holidays.
Penguin Talk Show
Who doesn't love penguins, right? In Manila Ocean Park, you can interact with Hamboo, the resident talking penguin. It's not only for kids but even for adults, too. This attraction is open on weekdays from 10 AM to 7 PM, and 9 AM to 7 PM on weekends and holidays.
Sea Lion Show
Did you ever wish to get a kiss from a sea lion? Here's your chance to get that kiss. The first show starts at 11 AM, the second show at 3 PM, and the last show at 5 PM.
Aside from watching the sea lions do their clever tricks, you can also learn how to help these creatures survive by taking care of the environment. If you're lucky, one of these cute creatures might just kiss you with a matching souvenir photo.
Visit Age-Old Churches
Even if you're not a religious person, the churches in Metro Manila are worth a visit. Some of these churches are very old and feature a combination of architectural styles.
Nuestra Señora de Gracia Church
When somebody mentions Makati, what comes to mind is modern business buildings and skyscrapers. However, amid all the modernity, this 400-year-old church still stands. Some parts of the church were damaged during the 1800s, but the original walls still stand after all these years. Find this church at 7440 Bernardino Street, Guadalupe Viejo, Makati City, Metro Manila.
San Agustin Church
This church was built was back in 1570 and is recognized by the United Nations Educational, Scientific, and Cultural Organization (UNESCO) as a World Heritage Site because of its Baroque architectural style, particularly the altar in the church. The church is located at Gen. A. Luna St. corner Real St., Intramuros, Manila, Metro Manila.
Minor Basilica of San Sebastian (San Sebastian Church)
If San Agustin's highlight is its Baroque architecture, San Sebastian features twin spires -a sign of its Gothic architecture. The church was rebuilt in the 1800s because the original structure was burned down due to a Chinese revolt in 1651.
Another interesting fact is that Gustave Eiffel, the engineer of the Eiffel Tower, was involved in the construction of the church. San Sebastian is located at Plaza del Carmen, Quiapo, Manila.
Our Lady of the Pillar Parish Church or Santa Cruz Church
Another church which showcases Baroque architecture is the Santa Cruz Church in Santa Cruz, Manila. Even though it was originally built in 1619, an earthquake damaged the church in 1863 and the original structure was destroyed in the Battle of Manila. The church presently standing was reconstructed in 1957.
Minor Basilica of San Lorenzo Ruiz (Binondo Church)
The Minor Basilica of San Lorenzo Ruiz located at Plaza Lorenzo Ruiz, Binondo, will surely remind you of Michaelangelo's paintings in the Sistine Chapel ceiling because this church has biblical scenes painted on the ceiling, too. Outside, it has an octagonal bell tower and some parts of the facade are also painted red.
Explore Philippine History
Are you a history buff? If that's the case, Intramuros is the perfect place to explore. Intramuros is also known as the Walled City and it plays a prominent role in the Spanish Era of Philippine history. If you want to, you can explore the city on foot. You can also ride a kalesa (horse-drawn calash), an old mode of transportation in the Philippines. If you're not confident in exploring by yourself, there are also guided tours which you can book online.
However, here's one of the things that you should know when visiting Intramuros: you can ride an eco-friendly electric trike or e-trike to roam around the Walled City for only 20 pesos. The project was launched last 2016 and the trikes are operational until today.
Some tourists enjoy riding the e-trike because of the drivers who know the history of Intramuros, so they can also act as a tour guide. You can book a chartered tour if you want the full-length tour experience.
Take An Afternoon Stroll At Luneta Park
Jose Rizal is the national hero of the Philippines and he was executed on December 30, 1896, at Luneta Park, known as Bagumbayan back then. In honor of his death, the place was renamed as Rizal or Luneta Park. if you're planning to visit Intramuros, you can also visit Luneta in the afternoon because it's located near the Walled City. Locals visit this urban park particularly during the weekends or holidays because it's a good place to chill and relax.
Watch The Sunset At Manila Bay
When you're traveling, exploring can leave you tired. After all your activities, you might want to find a place to relax. People have different ways of relaxing, such as sunbathing on a beach or looking at the city from the perfect view of their hotel room.
If you want to just sit back and enjoy the sunset, Manila Bay is the perfect place to do it. Walk along Roxas Boulevard and enjoy the sunset at Plaza Rajah Sulayman. You can also see the monuments of iconic people such as Maximo Soliven and Arsenion Lacson.
There are a lot of places in the world where you can enjoy the gorgeous sunset and other picturesque natural wonders. If you want recommendations, you can check out awesome travel blogs like Tourist Secrets.
Buy Cheap Stuff At Divisoria
Are you looking for a good bargain? If you're up for the authentic Filipino experience, haggling in Divisoria is one of the things that you should try. You'll find street vendors and hawkers in the area and also some shopping malls. Most of the things on sale are already cheap, but if you want to haggle with the vendors, you can try your luck. The vendors are used to haggling, and you might score some stuff for a lesser price.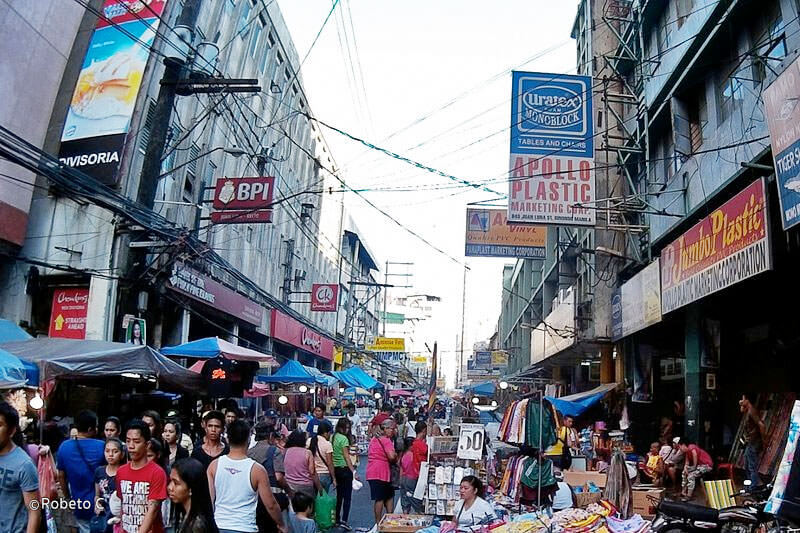 Divisoria is a bit different these days due to the efforts of the current mayor, Isko Moreno. It used to be quite chaotic and crowded with makeshift stalls on the sidewalks but now, it's more orderly and clean. You'll have an easier time navigating the streets.
Appreciate Nature At The National Museum Of Natural History
It's common for tourists to visit museums, so include The National Museum of Natural History in your itinerary. It used to be the headquarters of the Department of Tourism until it was turned into a museum. You can visit the museum from Tuesday to Sunday, from 10 AM to 5 PM. Here's another interesting fact: admission to the museum is free!
Aside from the Tree of Life, another attraction in the museum is Lolong. The crocodile measured 6.17 meters in length and weighed 1, 075 kg. Lolong used to be the largest saltwater crocodile in captivity until he died in 2013 due to pneumonia. After his death, Lolong's skeleton was moved to the National Museum of Natural History in 2017. The museum also houses a replica of a rainforest, a mangrove diorama, and a marine-realm gallery.
For you to enjoy the museum, avoid bringing permanent markers and other writing materials, don't bring food inside the museum, don't lean on the displayed items, don't use the flash on your camera, and don't smoke within the premises.
Shop At SM Mall Of Asia
Shopping malls are common in any country, but SM Mall of Asia or MOA is different from the rest. With a land area of 42 hectares, MOA is one of the largest malls in the world according to list25.com. MOA has four buildings: the North and South Parking buildings, the Entertainment and the Main Mall. You'll find everything at the mall – from Acer to Zark's Burgers. Mall of Asia also has a world-class IMAX theater and a skating rink. What more can you ask for?
Ride A Gondola At Venice Grand Canal Mall
Are you a fan of Venice, Italy? Did you ever want to ride on a gondola? If Venice is out of your budget, Venice Grand Canal Mall is the answer. The mall is located at McKinley Hill Garden Villas, Upper McKinley Rd, Taguig.
Visit the mall and reach your dreams of riding a gondola for only 400 pesos. IF you're hungry, here as some of the restaurants that you can try at the Venice Grand Canal Mall.
Hukad – Taste the food of Cebu even while staying in Metro Manila.
Isla Sugbu Seafood City – Seafood never goes out of style, and you can eat the best seafood at Isla Sugbu Seafood City
Bulgogi Brothers – This restaurant offers the best Korean barbecue in town.
Big D's Smokehouse – For your meat cravings, Big D's is the place to go.
Cuesina – This restaurant serves authentic Filipino dishes, which is perfect for tourists who want to try Pinoy food.
Fish and Co. – Are you craving for fresh fish? Dine in Fish and Co.
Delicieux – If you're in the mood for Italian dishes, Delicieux serves Spanish, Italian, and French cuisine.
Hop On The Iconic Pinoy Jeepney
The Philippines boasts of one-of-its-kind type of transportation – the jeepney. You can find the jeepney, or jeep everywhere in the Philippines. It's also an affordable mode of transportation so locals ride the jeepney daily.
The jeepney first appeared during the 1950s. However, jeepneys were not new vehicles but they were modified versions of the Willy Jeeps left over from World War II. It became a cultural symbol after Sarao Motors promoted the vehicle as a Filipino symbol. Now, tourists can bring home miniature versions of jeepneys as souvenirs.
Takeaway
Even if you don't get to travel outside Metro Manila, you'll never run out of things to do or places to visit. You can go on an adventure and explore the streets by riding a jeepney. If you want to enjoy yourself, stop by the Manila Ocean Park or ride a gondola at the Venice Grand Canal Mall. If you're in the mood for shopping, the SM Mall of Asia is the perfect place for you.
If you want to learn more about the Philippines, you can visit the old churches around the metro, tour Intramuros, or visit The National Museum of Natural History. When you're finished with your tour and you want to chill out, walk along Manila Bay or enjoy the afternoon at Luneta Park. Don't forget to try your haggling skills at Divisoria and score some awesome stuff for very cheap prices.