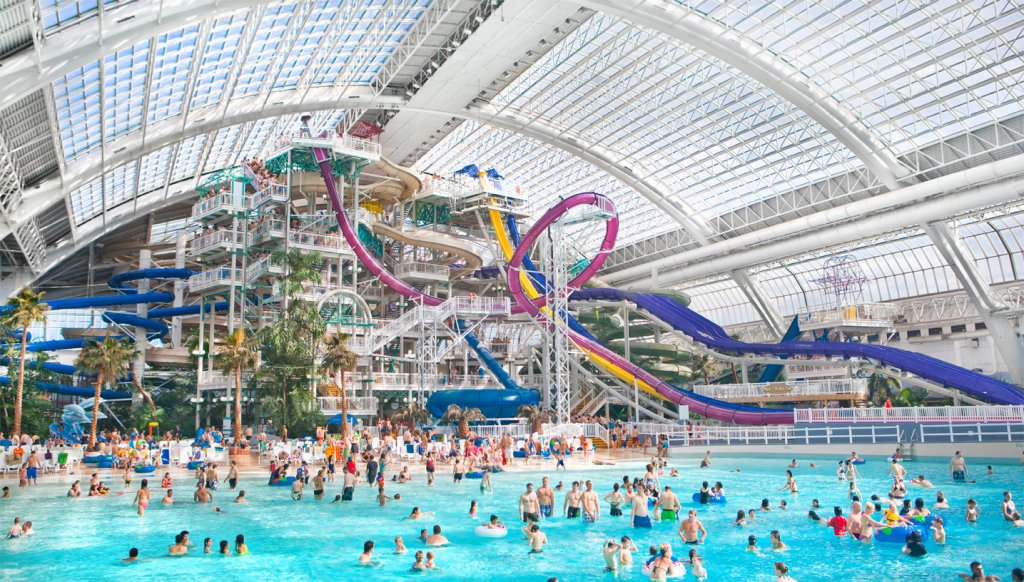 The thrills. The chills. The splashing and squeals of laughter. On a hot day, is there any better way to cool down than by visiting the nearest aquapark? Clearly not! 
But if you find yourself craving something more—higher, faster, wetter, wilder—well, there's a whole other category of unique waterparks out there, each one more thrilling, creative and eye-popping than the next. Better yet, at these incredible attractions the water is clean and well-aerated—both essential elements for your health as well as that of the venue.
Are you daring enough to visit one of them on your next vacation? We think you might even be willing to travel to some pretty far-flung places once you discover the extreme aquatic experiences that exist in the world. Take a look and decide where you're going next!
Asia
Visiting China? Be sure to make a stop at Chimelong Water Park in Guangzhou. Featuring a dizzying array of water tornados, slides, half pipes, and rafting adventures, this enormous attraction is sure to please the entire family.
While in Beijing, Happy Magic Water Cube is a must. Built as the swimming and diving venue for the 2008 Olympics where Michael Phelps won eight gold medals, the "Water Cube" has now been transformed into one of Asia's largest water parks. Beyond the amazing feats that happened here, you'll now find 13 colorful and speedy slides, a lazy river, and other fun water rides.
A Buddhist-themed water park? Yup, it exists. Suoi Tien Park in Vietnam uses the dragon, turtle, phoenix and unicorn to represent sacred animals, and the beards of Buddhist sages act as the end point of the 12-foot slides. Park workers dress as golden monkeys and are tasked with creating mischief. Why not?
And if your trip to Bali gets too relaxed, hop on over to Waterbom. Rides range from mellow to extreme—but there are far more extreme options than the moderate and mellow ones combined.  Will you be brave enough to try Smashdown, a 25 meter aquatic free fall, or The Climax, where you are ejected out a trap door, dropped straight down, and whipped through and inverted loop at a 2.5G force? 
Europe
Does a water park located at the base of a volcano sound exciting enough for you? Better head to Italy, where Etnaland stands in the shadow of the Volcano Etna. Slides, rafts, boats, and pools abound here.
Need a place to stay while in Sicily? Look no further than the Citta del Mar Hotel. It features a three-level water slide that ends in the Mediterranean Sea. Amazing!
Time to visit Germany. Tropical Islands, close to Berlin, is a gigantic water park in a space that used to house zeppelins and was a former Luftwaffe airship hangar. This waterpark accommodates over 6,000 people at a time, and features free flying birds, balloon rides, virtual sunsets, and indoor camping along the "beach."
While in the Canary Islands, be sure to head on over to Siam Park. Featuring a Siamese theme, the Princess of Thailand even attended the opening of this park. Rides are here grouped by thrill level: Relax, Family, and Adrenalin. Take your pick!
North America
In the U.S., Evergreen Wings and Waves Waterpark in Oregon is certainly a different type of waterpark. It's open year round with a variety of indoor aquatic attractions. The most exciting one is a converted Boeing 747 that sits on the roof—you slide right out of the aircraft and back down into the pools.
At the other end of the country, Blizzard Beach in Orlando, Florida checks all the boxes for fun. The imagined origin story holds that a freak snowstorm led to the creation of a ski resort in Florida, but then of course the snow quickly left. The resort was on the verge of closing until the discovery that it made a great water park. Ski themed attractions here include the Summit Plummet, Slush Gusher, and Toboggan Racers. 
South America
The largest aquapark in Latin America, Beach Park in Brazil hosts more than a million visitors every year. It is best known for the "Insano," which at one time was the tallest water slide in the world at 135 feet. The equivalent of a 14-story building, it plummets you to the pool below at 65 miles per hour in under five seconds.
Australia
Wet 'n' Wild Water World is offers big-time aquatic fun on the Gold Coast of Australia.  Boomerang around the Kamikaze with a friend, descend in complete darkness on the Blackhole, or circle like crazy around the funnel of the Tornado. It's for sure to be a g'day, mate! 
Caribbean
Of course, you can't talk about amazing waterparks without mentioning Aquaventure at the Atlantis in the Bahamas. The iconic Leap of Faith has you sliding on past a tank full of sharks, while The Abyss features a 200-foot drop, 50 of which happen in utter darkness. In all, eighteen water slides, eleven pools, and two lazy rivers make this place pure waterpark magic.
Where Will You Wander for a Waterpark?
There's a world of fun waiting for you at these and other incredible aquaparks around the world. Make a list of where you'll go next and get packing. Don't forget your swimsuit!