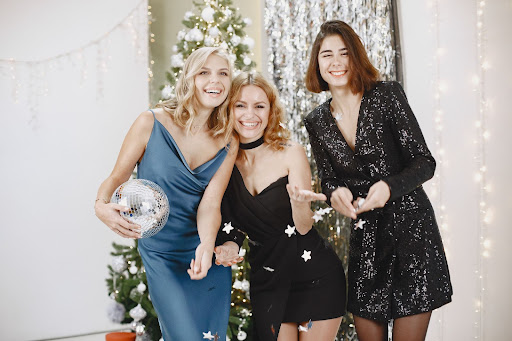 Prom night is one of the most magical moments of your high school life, and finding the perfect prom dress or gown is a major part of that experience. Whether you're looking for a backless, bodycon number or something more classic and elegant, there are countless options to choose from. 
But with so many different styles, colors, and accessories to consider, shopping for prom dresses can quickly become overwhelming. That's why we've put together this complete guide to help you find the perfect prom dress for your special night. From choosing the right fit to caring for your dress after the big event – we've got you covered!
The Different Types Of Prom Dresses
When it comes to choosing the perfect prom dress, there are countless styles to choose from. From classic ball gowns to sleek and sexy bodycon dresses, each style offers a unique look that can help you stand out on your special night.
The A- Line Dress: One popular option is the A-line dress, which features a fitted bodice and flares out at the waistline. This style is flattering on many body types and can be paired with various accessories for a customized look.
A Mermaid Gown: If you're looking for something more glamorous, consider a mermaid or trumpet gown. These styles hug your curves in all the right places while flaring out dramatically at the bottom – perfect for making an unforgettable entrance.
High Neck Dress: For those who prefer a more modest look, try a high-necked dress or one with long sleeves. These options offer full coverage while still being stylish and elegant.
There's no shortage of stunning prom dresses to choose from – so take some time to explore different styles until you find one that suits your personality and taste!
How To Shop For Prom Dresses
Shopping for a prom dress can be exciting and overwhelming at the same time. Here are some tips to help you find the perfect dress for your special night.
Consider Your Style: First, consider your personal style and body shape when searching for prom dresses. Do you prefer long or short dresses? Are you looking for a fitted or flowy silhouette? Knowing what styles and cuts flatter your figure will make it easier to narrow down your options.
Set A Budget: Next, set a budget before starting your search. Prom dresses can range from affordable to expensive, so it's important to have an idea of how much you're willing to spend beforehand.
Read Product Descriptions: When shopping online or in-store, read the product descriptions carefully and check size charts. Make sure to measure yourself accurately before purchasing a dress online.
Try On Variations: Don't be afraid to try on different styles and colors of prom dresses. You may be surprised by what looks great on you! Bring along shoes with similar heel heights that you plan on wearing with the dress so that you can see how it looks together.
Give yourself enough time when shopping for a prom dress. Start early so that there is enough time for alterations if needed. And remember – have fun with the process!
The Perfectly Fitted Prom Dress
Choosing the right prom dress can be a daunting task, but finding one that fits perfectly is crucial. A well-fitted dress will not only make you feel comfortable throughout the night but also enhance your confidence and appearance.
To achieve that perfect fit, it's essential to have accurate measurements of your body. You should measure your bust, waist, hips, and length from shoulder to hemline. Once you have these measurements ready, you can start shopping for dresses accordingly.

When trying on dresses at the store or at home after delivery it's important to ensure all areas are fitting correctly including; bust area doesn't bulge over or is gaping open; straps don't fall off shoulders if too big/small; no bunching around hip area and most importantly the dress should just skim lightly over floor when walking in heels.

It's important to keep in mind that every designer has different sizing charts so try several sizes before making a final decision.

Consider alterations as an option for achieving a perfect fit. Many department stores offer alteration services where they can tailor the dress to fit perfectly according to your preferences.
Remember comfort and style go hand-in-hand with a perfectly fitted prom dress!
Prom Dress Accessories
Prom night is one of the most special nights in a high school student's life. And when it comes to choosing the perfect prom dress, accessories can make all the difference. Accessories can elevate your look and add that extra bit of sparkle or glam you need to stand out from the crowd.
Jewellery: One accessory that is a must-have for any prom dress is jewelry. A statement necklace or earrings can really enhance your outfit and complement your overall style. It's essential to choose pieces that will match with not only your dress but also with each other.
Shoes: Shoes are another critical accessory to consider when picking out a prom dress. You can consider denim shoes that not only look great but are comfortable enough for dancing all night long! High heels are an elegant option, but if you're more comfortable in flats, there are plenty of pretty options available too!
Bags: When it comes to bags, less is more for prom night as you don't want anything too bulky distracting from your stunning gown! Instead, opt for a small clutch bag which matches your outfit color-wise.
Hair Accessores: Finally yet importantly, don't forget about hair accessories like headbands or hairpins which can add some interest and personality into any hairstyle! Whatever accessories you choose should reflect who you are while enhancing the beauty of your chosen prom dress!
What To Wear Under Your Prom Dress
Choosing the right undergarments to wear with your prom dress is just as important as selecting the perfect gown. The wrong foundation garments can ruin the look of even the most beautiful outfit!
The Comfortable Bra: First and foremost, consider what type of bra you need. If your dress has a low back, then a backless bra will be necessary. Similarly, if your dress has a plunging neckline, then an adhesive or deep-plunge bra may be required.
Seamless Underwear: In terms of panties, seamless underwear is always recommended to avoid any unsightly lines showing through your dress. Thongs are also a popular choice for formal events.
Shapewears: If you're concerned about feeling self-conscious in form-fitting dresses, consider wearing shapewear underneath to smooth out any bumps or lumps. Just make sure it fits properly and doesn't create unflattering lines!
Stockings: Don't forget about stockings or pantyhose if you plan on wearing them with your dress. Choose nude shades that match your skin tone for a natural look.
Taking these factors into consideration when choosing undergarments will not only keep you looking flawless but also ensure that you feel comfortable and confident throughout prom night!
How To Care For Your Prom Dress
Your prom dress is a cherished item that you'll want to keep looking its best for years to come. Here's how to take care of your prom dress and make sure it stays in great condition.
Always Follow Care Instructions: Firstly, always follow the care instructions on the label of your prom dress. Some dresses may need dry cleaning, while others can be hand washed or machine washed. It's important not to assume and instead follow the specific guidelines provided.
Never Store: Secondly, never store your prom dress in a plastic bag as this can trap moisture and cause mildew or discoloration over time. Instead, hang up your dress using padded hangers or store it in a cotton garment bag.
Avoid Exposing: Thirdly, avoid exposing your dress to direct sunlight as this can fade colors and weaken fibers. When storing it away during off-seasons, choose a cool and dark area where there is minimal light exposure.
Treat Stains Immediately: Fourthly, any stains should be treated promptly by spot-cleaning with warm water or taking it directly to professional cleaners if necessary.
Conclusion
As you can see, shopping for prom dresses doesn't have to be overwhelming. With so many styles, colors, and accessories available to choose from, you're sure to find the perfect dress that complements your body type and personal style.
Remember to consider factors such as fit, color preferences, and any necessary alterations when selecting a prom dress. Whether you prefer a classic ballgown or something more figure-hugging like a backless or bodycon dress- always prioritize your comfort above all else.
By following our tips on how to shop for prom dresses and gowns, accessorize them appropriately while caring for them adequately – you'll look stunning at your event. So go ahead and get ready to dance the night away in style!
Any Ideas / Suggestions About This Topic