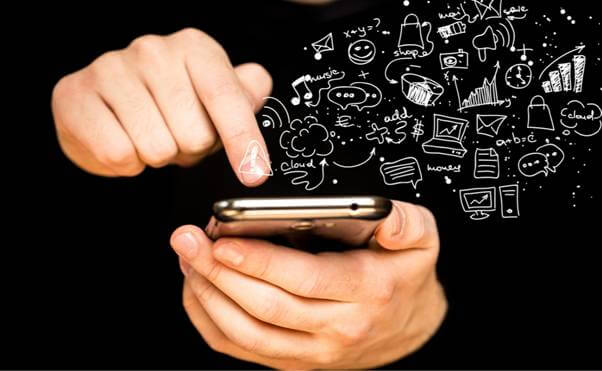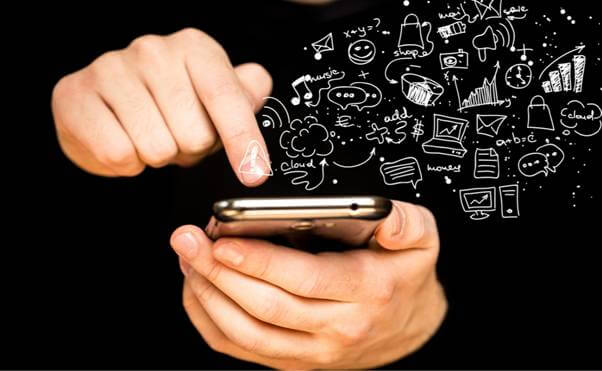 Mobile apps have become indispensable for millions of smartphone users. Apple's marketing mantra – "There's an app for that"-  has become a true representation of our modern lifestyle. We use them for everything, from monitoring our sleeping patterns, to managing our eating habits, organizing our daily schedules, getting directions, hailing rides, finding our soulmates, managing our money, and, of course, killing time. Mobile apps have changed the way we live our lives. According to a study conducted by Flurry Analytics, users spend a whopping three hours and 40 minutes on apps each day. And with the staggering rate at which new apps are being launched, it's obvious that mobile apps are here to stay. The best apps of today are not only bringing more ease, control, convenience and freedom into our lives, but are changing the way we work, socialize and play. In this piece, we take a look at how some of today's most popular apps and best mobile games are doing this.
Mobile Apps Make Our Lives Easier
While smartphones are revolutionizing the concept of efficiency, mobile apps are bringing a whole new level of convenience into our lives – and this includes not having to answer spam phone calls. Truecaller, downloaded by more than 250 million smartphone users, is one of the best apps when it comes to making communication safe and efficient. It identifies unknown callers on incoming calls and filters out unwanted calls or SMS messages that are known for spam, eliminating distractions so you can focus on what's important.
Artificial intelligence (AI) assistants like Apple's Siri, Amazon's Alexa and Windows' Cortana are increasingly popping up on our devices. However, Android's Google Assistant is adding a level of heightened intelligence. Integrating the functionality of Google Now, the AI can interact with other apps on your phone, allowing you to do a bunch of useful things like opening apps with your voice, screening your phone calls, reading the latest news, getting weather updates, booking movie tickets and getting suggestions on where to eat, drink, shop or travel. You can even use image recognition to find pictures on your phone through commands like, "Show me my photos of my cat".
LastPass is of the best apps when it comes to protecting your passwords and personal information. This feature-rich, intuitive password manager and secure private vault allows you to log in with one password instead of remembering a dozen, and syncs your passwords and data across all of your devices safely. LastPass can also autofill logins in browsers and apps and generate new and secure passwords instantly, which secures and simplifies your online experience.
Apps Keep Us Organized And Efficient
With only so many hours in the day, getting everything done can be a challenge. This is where Google's time management app, Google Keep, can be helpful. Google Keep, a more powerful alternative to apps like Evernote, allows you to create notes, reminders, voice memos and annotated images, which the app syncs across all your devices. While Google Tasks is a decent tool for simple to-dos, there is a myriad of advantages to using Google Keep instead – the major advantage being the app's ability to integrate with other Google services. Simply use the "Ok, Google" command to start creating to-do lists, dictating notes and setting reminders. You can even collaborate on tasks with family or friends and watch as items get checked off in real time. The best part – it's completely free with no functionality hidden behind a paywall.
If you need a simpler, more efficient and synchronized digital experience, one of the best apps to solve that problem is AirDroid – a mobile device management suite specifically designed for a seamless multi-screen life. Pairing with your PC through companion software or a browser window, AirDroid allows you to transfer files across devices without a cable, browse your phone's files, contacts and apps from your PC, use the phone camera remotely, mirror screens, and even play music stored on your phone on your PC. You can also reply to mobile messages from your computer, which eliminates the need to constantly check your phone in the office.
Apps Help Us Live A Healthier, More Balanced Lifestyle
The wellness category is jam-packed with apps designed to bring more balance to life. Whether it's to drink more water, get more sleep, stress less, exercise more, eat better, lose weight or even get real-time, actionable medical advice from a physician, you can be sure that there is indeed an app for that.
When it comes to setting health goals, Habit Tracker is one of the best apps to have on your smartphone. Habit Tracker, as the name suggests, is a habit tracker combined with an alarm app, allowing you to set customized goals – whether you want to read more, stop smoking, start working out or even just track how many hours you waste on social media each day. Health Tracker creates detailed reports in the form of graphs to help you recognize patterns and progress, sends motivational quotes to cheer you up when you are feeling blue and even has in-app forums allowing you to chat with people with similar goals.
Apps Keep Us Entertained
When we are not working or connecting with family and friends, our mobile phones are great sources of entertainment. From music apps like Spotify to streaming apps like Netflix, eBook apps, and of course, a vast variety of fun mobile games, smartphone users are spoilt for choice when it comes to enjoying downtime.
As the most popular iOS and Amazon App Store category (at 25% and 21% respectively), gaming is one of the biggest sectors in the mobile app ecosystem. App Annie and IDC data showed that almost 80% of total worldwide spending on the Apple App and Google Play stores was on games. Judging by the rapid rise of mobile gaming, it's clear that gaming apps govern the way in which we spend our free time to a great extent. And it's no wonder – there are hundreds of thousands of titles mobile users can choose from, spanning a range of genres — from role-playing, to immersive adventures, sports, Casino4Fun slot games, puzzle games, retro runners, and strategy games.
Some of the best mobile games are shifting the boundaries of what one would expect from a gaming app. The unique iOS puzzle game, Blackbox, for example, is unlike anything else you've played on your phone before. Using the phone's various sensors and settings, the game encourages you to use things like the flashlight, microphone and even Wi-Fi settings to solve puzzles. Far From Noise is another unconventional game that has been taking the mobile market by storm. For starters, this game is almost hard to classify as a game at all. The storyline is driven by a dialogue between you and a deer, peppered with transcendentalist philosophy and a pinch of wit. Starting off inside your car, teetering on the edge of a cliff, the story develops based on the decisions you make throughout the conversation. Although Far From Noise does not exactly fall within the "fun mobile games" camp, it's certainly different and thought-provoking.
Mobile apps have not only become an inextricable part of our daily lives but have fundamentally transformed nearly every aspect of the way we live, enhancing and extending our capabilities. They're giving us more choice, more freedom, greater convenience, better control, enhanced efficiency, expanded connectivity, improved security and enriched entertainment – right at our fingertips. And they are most definitely here to stay.
Casino4Fun has a range of mobile games, including favorites such as slots, table games and virtual games. Download the free iOS or Android Rivers Casino app today, receive 250 credits and play Casino Blackjack, Three Card Poker and many more. New fun mobile games are released three times a week!