It's tough to get famous in modeling industry when a person is plus size. In today's trends, however, there is plenty of room to make way for plus-size models. Being a plus-size model already guarantees a person their unique spot in the modeling industry.
It is indeed a challenge to walk on runways without having the stereotypical runway model body. However, being a plus-size model is much more than just strolling across the catwalk and selling clothing online. Most of them speak about issues that talk about body image and politics. Here are some of those people that inspire change and acceptance to the world.
Ashley Graham 
Ashley Graham is best known as the model that graced the cover of Sports Illustrated Swimsuit Issue. The same as other striving models, Ashley Graham did embrace some challenges at the beginning of her career. Graham made it to the headlines when one of the commercials she starred in was banned. The main reason for the ban was that too much skin was showing.
Ashley Graham's beautiful face is more than for covers only. She also participated in TED Talks and said that plus-size is still a hot topic both in and out of the modeling industry. However, even if there are constant rejections for plus-size models in the fashion industry, Ashley Graham has been able to break the proverbial glass.
Ashley is a mainstay figure in the world of fashion as she appears in several magazines like Glamour and Vogue. Also, for several times she's become the face for some of Levi's campaigns. Without any hesitation, Graham paves the way to work as a model for swimwears and lingerie.
Her strong will and attitude don't stop there; Graham is one of the top model-entrepreneurs in the industry. She released an eponymic lingerie line that she can wear. Probably, this model's motto in life is "What doesn't kill you makes you stronger."
Philomena Kwao
One of the most beautiful plus-size models, Philomena Kwao, is also a spokesperson for different issues. Philomena isn't all beauty, as she also possesses the brain that helped her earn an advanced educational degree. If that is not enough, this plus-size model is also an entrepreneur who runs her own business called "The Lily Project" which focuses on health and advising business.
The business is the answer to young women's query about health, feminism, politics, and beauty. Among the good things about Kwao, there is still a lot more to be said. Besides on being a model and entrepreneur, she's also an influential person that is against about segregation of race and size in the fashion industry.
Included in her long list of achievements, Philomena Kwao is a writer that is not afraid to tackle issues regarding race and body image. From autobiographical essays regarding self-acceptance to challenges of plus-size in the modeling industry until the feature of diversity, Philomena is on the run to push her message to the world.
Philomena Kwao's work with Women for Women International and her advocacy for global healthcare access makes her the model that will continue to run the world.
Candice Huffine 
With a curve size of 12, Candice Huffine is next to the list. For the whole time of her career, Candice has been a plus-size model. Her bubbly personality paves her way to compete in different competitions and pageants when she was young.
Upon moving to New York to start her career as a model, Candice vehemently refused to lose weight for agents. Her notable collaborations with photographers like Camilla Akrans and Steven Meisel speaks that she is on the tops of the game.
Her different ideas about the high-fashion world let her swept the glossy covers of Vogue. Huffine landed herself as a cover in Vogue Italia and posed for the famous Pirelli calendar. In an instant, the work with Vogue Italia made Candice a star. She has always been vocal about her thoughts about the desire to change the view about plus-size models.
Candice knows that her messages about breaking the stereotypes on fitness and health are on the spot. She used the internet to show her training for New York Half Marathon visually and posted a picture with a medal in hand. Right now, Candice Huffine is a high demand around the world and remains beautiful inside and out.
Tara Lynn
Tara Lynn made her name famous as one of the beautiful faces that made it to the June 2011 plus size editorial spread of Vogue Italia. Tara Lynn is the first plus-size model to gain a spot in the modeling industry. When she was younger, Tara had issues regarding her body image.
However, after appearing in the H&M 2012 campaign, Tara's just laughing over her skinny haters. Tara Lynn's career blossomed after being featured in V magazine and Elle France. Before becoming a model, her rough past of working in fast foods and grocery stores gave her enough experience about life.
Tara Lynn is now one of the most sought-after beauties that represent major retailers for beautiful lingerie shoots and ads.
Tess Holliday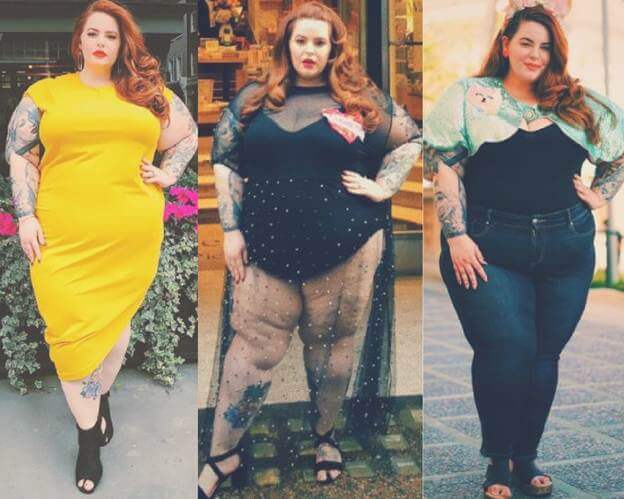 Tess faced her fair share of failures and rejections, but she decided to treat them as stepping stones on her road to success. Back in 2011, a documentary called "Heavy" featured Tess, and she gains attention from the right individuals. These right people made her start a remarkable modeling career. You can see that she indeed succeed since she gained gain massive and loyal Instagram followers.
Kris Yeo
Kris is all about going against body-shaming. She stated how she could care less about labels when she spoke with Sydney's Closet about her career. Her triumph does not only limit to her modeling since she also uses her confidence to keep her true self. The pressures of being skinny bounced off her just like some useless rubbish. Kris is already happy that she believed in herself.
Jennie Runk
Jennie is not the type of model that women and girls think they have to force themselves to be because she is the type of model that most women and girls can relate. Jennie represented summer line in H&M's back in 2013. Her curvy shape covered all over stores across the country.
Chloe Marshall
Based in England, Chloe Marshall was the first plus-size model to reach the Miss England finals. This model is confident and not afraid of any competition. She didn't let her weight to get in her way. Chloe simply proved that starving yourself into beauty is completely outdated ideal.
Takeaway
The listed models are only a few among the sea of beauty that is changing the world without riding in the stereotype. Whether you want to become a model on some reputable sites like French Connection or some famous magazines, your size is not a hindrance for you to give up on your dreams. The plus-size models are making significant efforts in letting the world know that there is no size and race when it comes to fashion.