Living in fascinating houses, zooming around in super cool sports cars and have million bucks in the bank are some of the perks of being a top celebrity. A private island is just a way of spending their fortune for a lavish holiday from the hustle and bustle of everyday life on a place far away from the crowd. Many celebrities like to get a hold of a private island for some unwinding and going off from the eyes of the media. Spending on acquiring a private island offers a lot of benefits and they range from relaxation, exploring the place and keeping away from public for a private time. Let's look at the most expensive private islands owned by celebrities. They are as per the following.
1. MAGO ISLAND, FIJI
Owner – Mel Gibson
The actor from the "Expendables" splurged on a huge private island of 5,400 acre just after the release of his movie, "Passion of the Christ". The island is one of the largest owned in the South Pacific and he bought for a whopping amount of $15 Million. The star hasn't constructed any fancy hotels or resorts as compared to other stars but rather for his own peace.

2. ROOSTER CAY, BAHAMAS
Owner – Eddie Murphy
Eddie Murphy is certainly one of the top owners of the Hollywood industry and has always laughed his way to the bank. Rooster Cay is a paradise for sure in Bahamas and the actor bought this scenic private island in the year 2007 and has plans to make it into a resort sometime soon. The cost of the island stands at $15 Million.

3. POND CAY, BAHAMAS
Owner – Johnny Depp
How could you think that Johnny Depp wouldn't get an island for himself? Well, he does have an island and costs about $ 3.6 Million. It is a 45 acre island in the Bahamas with amazing views, 6 white   sand beaches and palm trees. All the white sand beaches are named after the members of his family.
4. PALM JUMEIRAH, DUBAI
Owner – Shah Rukh Khan
The Badshah of Bollywood has a huge villa, spread over 8,400 sq ft. The Villa set on a 14,000 sq ft plot, consists of 6 bedrooms and additionally a remote control car garage for two cars to fit in. This Private Island is beautiful in its own way and SRK certainly knows to live life King Size. The cost of the island is $2.8 Million.

5. BELIZE, CENTRAL AMERICA
Owner – Leonardo Di Caprio
The Titanic star bought this private island in the year 2005 for about $1.75 Million. The star is currently in talks with a big seven star hotel to build an eco friendly beach villa consisting of about 80 massive rooms. He also plans to put a solar powered air strip on the island for visitors to reach here.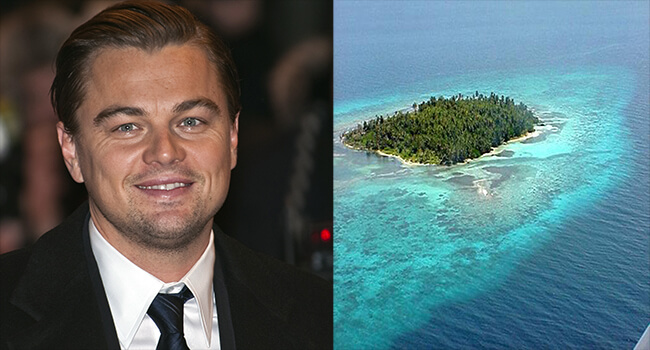 6. LEAF CAY, BAHAMAS
Owner – Nicholas Cage
The star purchased this amazing island in Bahamas with a main aim to create a luxury getaway in 2006. This was not the first time he bought an island but he had to sell it off due to an endangered reptile spoiling his plans.
7. MUSHA CAY, BAHAMAS:
Owner – David Copperfield
The huge 150 acre Musha Cay is situated in Bahamas and owned by the famous illusionist known as David Copperfield. He bought the island for about $50 Million in the year 2006 and converted into a resort and can book the entire island for about $37,000 per night with a 4 night minimum stay. You can additionally bring in to a maximum of 24 friends out here for a price of $52,000. The island has everything ranging from a guest club house, restaurant, game room etc.