India is a land of some of the best landscapes in the entire world. India is not only a beautiful country filled with cultural diversity, but it also a land of marvelous natural beauty which makes it one of the most serene places in the world. From the breathtaking backwaters of to the coral reefs of Lakshadweep, India and its beauty can't be described in words.
Top 10 Most Beautiful Places In India
Kerala Backwaters
The backwaters of Kerala comprise of 900km of unified waterways, lakes, rivers and inlets. This water-network is nourished by 38 rivers and is made of 5 huge lakes that are linked by different canals which both manmade as well as natural. This sequence of lagoons which lies parallel to the Arabian Sea is also known as the Malabar coast and broadens up to nearly half of Kerala's coastline. The stunning Kerala backwaters offer visitors a calm, serene getaway with the comfy and cozy houseboats for sightseers to stay in and relish the beauty of Kerala.
Tea gardens of Munnar
Munnar is situated in the southwestern part of Kerala. The view of the tea gardensof Munnar is spectacular and eye soothing. Some of the places are so fantastic they seem like a painting. Munnar is almost fully covered with Tea plantations, a number of them go as high as 7000 feet beyond sea level. The best ones are Mankulam, Devikulam and Top station road.
Konkan
Konkan is filled with incredible beaches, coconut groves, blossoming green hills and beautiful valleys. You can't help but admire the small quaint villages, its simple inhabitants with their traditions, way of life and the authentic Konkani cuisine. If you are fond of sea, sand and forts, then Konkan is the ideal place for you with its enormous choice of grand forts and beaches.
Konkan has some of India's most clean and beautiful beaches including the beaches of Alibaug, Dapoli, Tarkali and more. Konkan is also famous for forts from the era of Shivaji Maharaj including Murud Janjira and Sindhudurg.
Lakshadweep
In Malayalam, Lakshadweep means "a hundred thousand islands". The whole of Lakshadweep is made up of a total 5 banks, 12 coral atolls, 3 coral reefs, and several inlets making it is one of the most beautiful places in India. Blessed with an unparalleled natural beauty, the out of the ordinary coral reef island of the union territory is an fascinating merge of scenic beauty together with contemporary infrastructural facilities that draw more than a few tourists to this place from all over the world.
Cherrapunji – Nohkalikai Falls
Nohkalikai Falls is one of the most beautiful and photogenic waterfalls in India, it is also the 5th highest waterfall in India. You can see the water falling uninterrupted from a height of 1,100 ft to the foot of the falls making it a magnificent site. View of this falls at sunset is mesmerizing. A short walk can take you to a series of cliffs from where you can enjoy a panoramic view of Bangladesh plains.
Nanda Devi temple
The Nanda Devi temple is dedicated to Goddess Sati. It is one of the oldest temples in Joshimath. The Goddess is considered as the local guardian of the people. Apart from being an attractive temple, this place also offers an incredible view of Panchachuli snow clad peak. This is one of the most beautiful places in India and a must visit in Munsyari.
Mizoram
Blessed with a varied range of geographical features, this small state brings brilliant opportunities of travelling on the hillocks with winding trails where you can enjoy adventurous mountain biking. The landscape of Vantawang Falls, Phawngpui Hills and Palak Lake looks amazingly picturesque while the traditional sites at Chhingpui convey the ancient past of the Mizo life. Typical dance forms, food habits, attires, and their local music add dynamism to the enriching panorama of Mizoram.
Dal Lake
Dal Lake is one of the most beautiful places in India. It is a beautiful, urban lake of Srinagar, the capital of Jammu and Kashmir. Dal Lake is famously called as the 'Jewel in the Crown of Kashmir.' The lake's surrounding region consists of 3 gardens- Shalimar Bagh, Mughal gardens and the Nishat Bagh. The lake is the second largest one in the state and it contributes enormously to the tourism and recreation of Jammu and Kashmir.
Matheran
Matheran is the smallest hill station in India, and is situated only 90 kms from Mumbai. The term 'Matheran' means "forest on top". Matheran is a combination of lusting greenery, tranquil environment and most importantly unpolluted ambience. Matheran is declared as an eco-sensitive region, by Government of India. It is one of the few places in India where vehicles are not permitted, which makes this place different from the rest. Matheran is an incredible tourist destination at a height of approximately 2516 ft over sea level.
Jaisalmer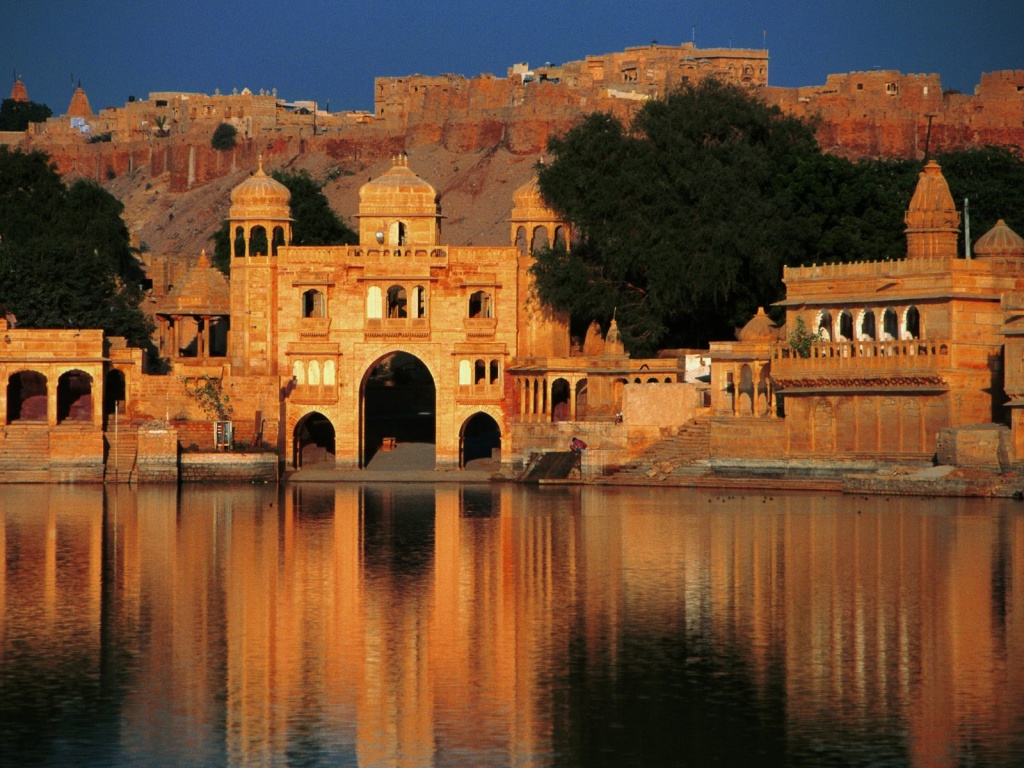 Jaisalmer also famous as the "Golden City of India" is filled with a golden charm. Jaisalmer is one of the most beautiful places in India attracting many travelers to discover the rich historical tradition of the beautiful city. Number of foreign tourists visit Jaisalmer every year to enjoy its yellowish sandstone, incredible fort and numerous ornate Jain temples.
Any Ideas / Suggestions About This Topic