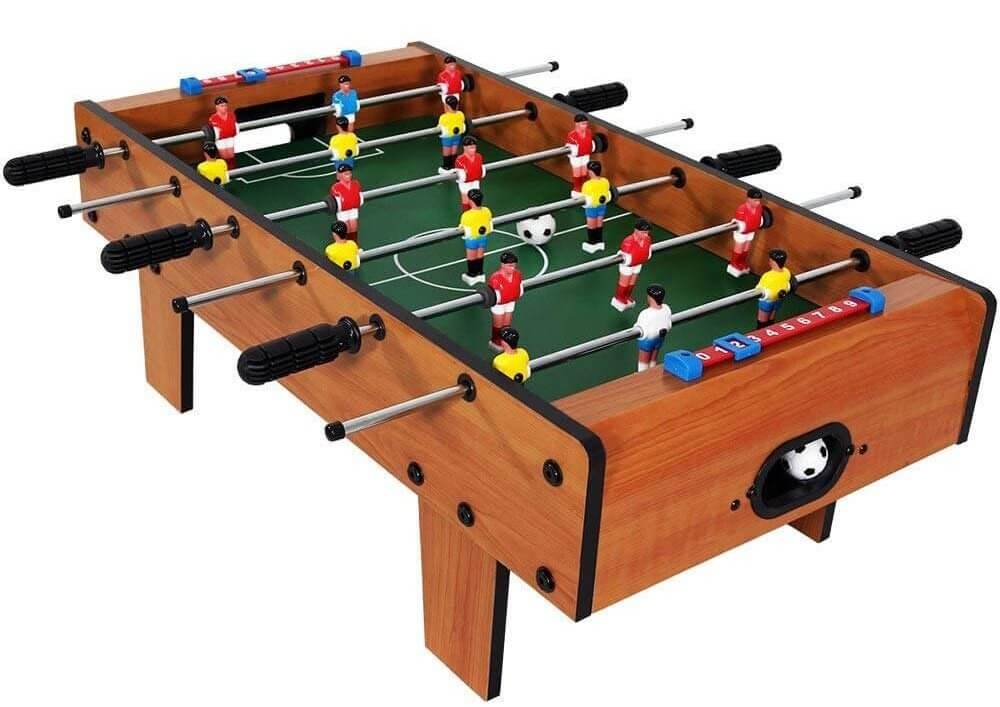 If you love playing foosball, then you will know that it is a table game that can be played at home and even in the office. This game is appropriate for every age. It is even fun to play.
You may be wanting to buy a foosball table to enjoy this game. To do this, you should consider some things so that you can get the correct one for your personal requirements. Read on to find out more.
Different Styles of Foosball Tables
There are mainly six types of foosball tables that are found throughout the world. The various styles mainly include Spanish, Italian, French, German, American and Czech Republic. Each of these styles are known for their unique characteristics.
1. American Style
This style is well-known for the hard playing surface and is meant for excellent speed. They are known to have been originated from the European style and later formed a blend of French and German styles. It is mainly focused on ball control, passing and executing the shots.
2. Czech Republic Style
This is almost similar to the German and American style. There happens to be controlled play here with brush passing and snake shots. The style is dictated by the manufacturer, Rosengart. They are known to have been for many years and the design is considered depending on the feedback of the players. They have improved immensely over the years and have the credit of being the ITSF professional table.
3. French Style
These are known to have telescoping rods. It is extremely safe to handle and this is the reason that the parents usually love this style. The men are made with aluminum or metal. It facilitates in providing with good grip during play. The style is usually referred as fluid and the ball is moved from still position between the surface and man.
4. German Style
This is an ancient style and it is known to be featured with single goalie and sloped corners. The German models are characterized with plastic men and are fixed to the rods to form a single piece and are featured with hard playing surface. A few tables are also known to have acrylic or sanded glass and this makes the balls move at a high speed. This helps in preventing the men to be loose and helps with fast rolling game.
5. Italian Style
This is very well-known for the unique style and can nowhere be compared to any other style. The angled legs are inspired from the European style whereas the rest of the aspects are inspired from the American style. The style is quick and free and is featured with many controlled passing and set up even before attempting the shots. Pinning the ball is considered difficult, however it is possible. The pin shots are turned to be a common thing for the tournaments.
6. Spanish Style
This style is totally unique when compared to any other form. This is a kind of skill game that requires immense concentration and it also requires good hand and eye coordination. It is mainly because of the curved surface. The roll is rolled to the center of the table and this makes it extremely hard for the ball to get into the position. The style is known to have many back pins for trapping the ball and to maintain in possession.
All these styles are known for their uniqueness are facilitates in exciting play. It keeps one engaged and develops concentration in a great way. They are known for their relevant history too.
5 Tips to select a foosball table:
1. The Table Size
This will determine the amount of play area that will be provided to the players. When looking at a standard foosball table, this measures around 30 inches by 56 inches. Including the rods as well as players, one will require roughly double that to have sufficient space to play this game. If you want to buy the table for children, then a smaller version can be brought.
2. The Height of The Table
The standard size is around 36 inches for a normal type of foosball table. This one will be appropriate for old teenagers as well as adults.
If you are a young teenager or wanting to buy the table for children, then this height will be too much. It will be tough to view the playing field with this unless the players stand on some box.
If the table is being brought for children, then its legs should be adjustable. The table may also be placed upon a table rather than having freestanding legs.
3. The Table Construction
This is another point which should be considered. For those who are looking for a table which is a good quality one and can withstand some punishment, then get one made of solid wood.
Therefore, it will be sturdy enough for competitive use as well. You need to remember not to place this table within a damp environment as it can get damaged due to humidity.
For those who want to use this foosball table lightly, get one made of composite wood. Particleboard should not be chosen as it slowly degrades as time paces unless this is really thick along with heavy.
4. The Table Play Surface
Cheap sticker style type of designs on your foosball table can become damaged, loosen plus curl up or even warp, therefore impacting the flow of your gameplay.
They can also disrupt the direction the ball is going in. It is better to get a quality foosball table that has smooth along with hard finished surfaces, allowing the ball to have more speed and also no threat of getting impacted by the playing surface.
5. Consider Table Levelers
These will aid you in keeping an even playing field also on uneven flooring. Game rooms that have slightly uneven floors should get the table which can be adjusted somewhat particularly on the legs.
You can consider the above points when wanting to get a foosball table. Also look at reviews like at scouting report foosball tables to know more about the different tables available.