Have you ever wondered that how the people in the glam world irrespective of their gender possess such perfect features to flaunt? Have you ever wished to have such perfection which scores a perfect ten when it comes to being glamorous?
Well your answer must be PHOTOSHOP!!! But this technique is possible only for the pictures which you would store in your devices. What if you have to attend an occasion and you try to give you best but your natural features serve as a hindrance in your path of perfection?
Well other than a surgery there is yet another technique which is affordable and instant that would give your dreams a stand as far as your beauty is concerned. This simple yet technical technique is known as contouring.
Here in our article of how to contour your face makeup beginners will get to learn how to achieve a well sculpted face in just a few minutes .That's right you are just a few minutes away to get your brand new glam look.
How to contour makeup?
The question of how to contour makeup like a pro is frequently used by makeup lovers so here we present before you the gratuitous steps to give you the easiest guide to contouring. Thanks to this technique a more angular face is now easy to achieve.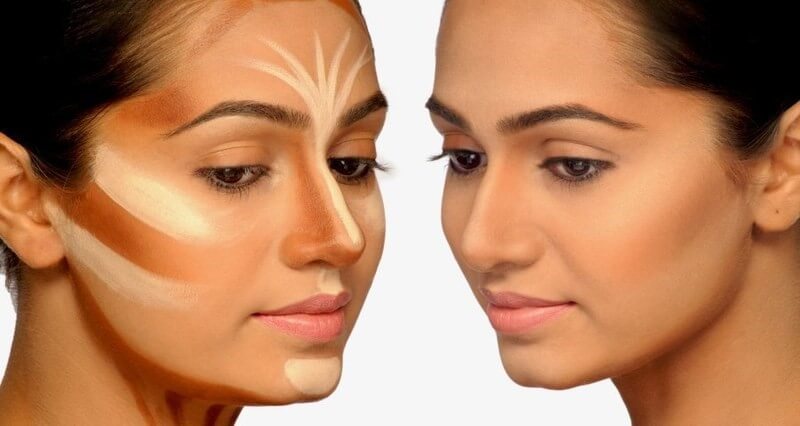 Things required:
If you want to learn how to contour makeup step by step then you should first prepare yourself with the products required. A contour kit is easily available in market. It is available in various forms like, in a liquid form or a stick or it can even be in a powdered form.
In case you are not able to get a contour kit you can use your existing foundation for basic coverage plus two stick foundations: one that is two shades deeper than your skin tone, and one that's two shades lighter it will work as a highlighter, Dam-Mikelle, a well-known MUA recommends the brand Bobby Brown because it's dense and blends very well.
Initializing the contour procedure: for the contour to be effective prep your skin first. To even out the skin use your fingertips or any foundation brush (kabuki brush works the best). You don't have to worry about varsity-level coverage. Coverage is done just to ensure a leveled based.
Mapping your face:
Perfect contour makeup starts with learning how to first frame your face according to the face cut you have. Take the darkest of the two stick foundations, mark the temples.
If you have a wide forehead, extend the line into the hairline to minimize it. To enhance your cheekbones, place the pigment just above the hollow part.
To identify your area of contouring you will have to place your fingers on the sides of your face, underneath the bones.
For the nose, mark a very narrow line at the tip and extend it into the brow if you have a shorter nose to width or length thus creating more definition.
Highlighter will be used between the marked lines to enhance the newly sculpted nose.
Popping the Pout:
Place a little bit of highlighter or even a concealer that is two to three shades lighter than your skin tone. This is to be applied on the top of your cupid's bow and on the center of the chin. Blending it is a must and a good quality sponge or a brush should be used.
Blend it:
Take a damp Beauty blender and tap over the contoured area, fusing it with your base foundation.
Blend by tapping small circular motions using the bigger and rounded end of the sponge because it gives more area to work on.
But for detailing the edges of the nose, you've got to flatten it and squeeze it into your hands.
Sculpting your jaws:
For a defined jaw, draw a stripe of highlighter from your chin to your earlobe parallel to your contouring shade just below it. Blend with nicely with a brush or a slightly damp sponge.
Get brightened:
Concentrate your lightest foundation stick underneath your eyes, if you want to go for a more dramatic look you can do a little bit of highlighting in the center of the forehead and on the chin, and also not to forget the bridge of the nose. Blend any excess product with a damp sponge.
Shine a Reflecting Light:
This step is sometimes referred to as "strobing" is all about using highlighter to make a shimmery (not excessively dramatic) reflection along the length of your nose, brow bones, and your upper cheek bones. Highlighting between your brows and enhancing them acts as a bonus for your overall makeup look
Casting Shadows:
Suck in your cheeks, and then shade above and along the hollows of your cheeks, creating soft stripes that extend towards the ears. Shade along the hairline and also above the outer corners of the brows.
Blend it briskly with a brush or sponge starting at the center and diffusing outwards. Do not stop until every single line disappears.
VPL (Visible Product Lines) is always a tragedy in the makeup world, herby ruining your complete look. So make sure you practice all these techniques really well.
Finishing:
Take a fluffy brush and dust the entire face with a small amount of loose powder. Translucent powder regarded as the best for securing a cream foundation.
Wasn't that really subtle?
Sharpening some parts of your face with Miss Fame-level skills every day and can makes a world of a difference, a difference in your skills as well as personality.
Even your therapist would notice! Try it and let us know how it goes. ALL THE VERY BEST!!!!!!!
Any Ideas / Suggestions About This Topic