Spongebob Squarepants was one of the most fantastic animated series available for the kids on TV. All of us have had a history of swinging our heads in the tune of its theme song. But, many years have passed since then. We have aged, so has Spongebob. Do you know how old is Spongebob? Have you ever wondered that? If not, read this article to a lot about him, his character, and his age.
The Movie Spongebob Squarepants was a big hit in its time of release. It earned around 140 million dollars across the world as it won the hearts of millions.
Did you ever imagine that a sponge dwelling in a random pineapple would become a craze for millions of children? If you didn't, Spongebob showed its grandeur to you!
Here we list some unknown facts that you possibly didn't know about Spongebob. After that, we will come back to how old is Spongebob.
Fun facts about Spongebob Squarepants
Here are some lesser-known facts about Spongebob:
A marine biologist inspired the series
Inspiration is everywhere; you need to keep your eyes and ears open to be inspired!
The marine biologist who was the main inspiration behind Spongebob Squarepants is named Stephen Hillenburg.
Interestingly, he is a degree holder in natural resource planning with a specialization in marine resources. Also, he was a faculty of marine biology at Orange County Marine Institute.
He was an incredible professor with a knack for drawing, culminating in his first comic book "Intertidal Zone."
Here, he featured a precursor to Spongebob. Only when he worked in "Rocko's Modern Life" as the creative director did the creators realize the future potential of Spongebob.
Original Name
Often in our childhood, we get names which we don't continue when we grow up. Spongebob was no exception. Initially, he was named Spongeboy. The title of the show was also different. It was "Spongeboy Ahoy".
Stan Laurel, Pee-Wee Herman, and Jerry Lewis inspired the personality of Spongebob.
If you want to know how old is Spongebob, you need to know how he grew up or how the creators gave birth to this character.
The influence of Stan Laurel, Pee-Wee Herman, and Jerry Lewis was too obvious to escape the audience's notice.
Tom Kenny, who was the voice actor for the character Spongebob said that Hilenberg wanted the character to be half-adult and half-child. So, he best found a mixture of childish and adult characters in this tripartite influence.
There was a character change
The destiny of Spongebob was initially that of an angry owner of a bar.
We are also huge fans of Squidward. But did you know he is not a squid? Unlike an octopus, he has only six tentacles. They distanced the reality a bit from the animation.
Popular parody
If you want to know how old is Spongebob, you should know that there exists a popular roast parody of this show as well. The name of the show is Spongebong Hempants, produced by Camp Chaos, an animation studio.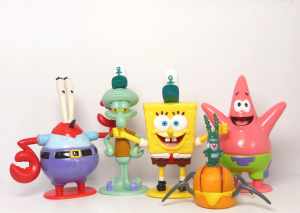 How old is Spongebob?
How old is Spongebob has raised much curiosity among his fans. The reason for this is that there has been no precise data about his age.
Airing first in 2000, Spongebob should now be at least above 21 years old. This one thing is sure about the question of how old is Spongebob.
This show is one of the longest-running shows that America has ever produced. The 12th season had just finished, and there has been a talk about a possible thirteenth season as well.
In this show, Bikini Bottom is a submerged underwater city. Except in myths and religions, have you ever imagined roaming in a submerged city?
But, this show is all about that where it traces the daily adventures of Spongebob, who is assisted by his best buddies named Sandy Cheeks and Patrick Star. Mr. Krabs, Squidward Tentacles, Mrs. Puffs are other fancy characters that join the show.
So, if you are wondering how old is Spongebob, the automatic question that will come to your mind is, how have the other characters aged!
Don't try to find logic in cartoons. Hence, finding a logical answer to how old is Spongebob or how did fire and water were used so strangely will be a wild goose chase.
Spongebob lives alone in his abode in this series, where Gary, his snail, gives him company. He even works at Krusty Krab. He is also unable to find his license for driving. Hence he also has to head to the boating school of Mrs. Puff regularly.
Now, the driving license in the real world demands an age of at least 18 years. However, using that parameter in an animated world can be foolish. So, you miss another chance of finding an honest answer to how old is Spongebob.
A possible age estimation
According to one missing link, which gets dispelled in the "Sleepy Time" episode, he should be 13 years in 1999.
In this episode, he finally manages to get hold of his license for driving, where the birth year is 1986.
So, if you have watched Spongebob Squarepants minutely, then this detail should not miss your eyes. In case it did, here is our article assisting you to get your answer to the question about how old is Spongebob.
The show has been on the run since 1999, and now the age of the show itself is 20 years. If we assume that Spongebob was not an infant when the show began, the minimum age should be above 23-24 years.
How old is Mr. Krabbs?
As was said earlier, we often tend to think about how the other characters from the series aged! Let's start with Mr. Krabbs. Spongebob went to work for him at a very young age if we believe the driving license date valid.
Clancy Brown was the voice artist behind the character of Mr. Krabbs. This character first made its appearance in the "Help Wanted" episode, which aired on May 1, 1999. Stephen Hillenburg, the scientist of sea life, created this fantastic character.
Mr. Krabbs is the owner or CEO of Krusty Krabb, a delicious food joint of Bikini Bottom, the submerged city. He has his small family where he lives with Pearl, his daughter, inhabiting a hollow anchor. Even if he is frugal with his expenses, however, tries to keep his daughter happy in any way possible.
He is an ocean crab of purple color. Born in 1942, he is 79 years old as of 2021. Also known as Plankton Krabs, he is the old employer of Spongebob.
If you have followed the article thoroughly till now, you should have noticed that age is just an unimportant fictional number in the world of Bikini Bottoms. No one seems to age there. It just focuses on the daily life of the characters and navigates around the mischiefs and dilemmas of the characters.
How old is Patrick Star?
So, another tricky question to solve in this regard is how old is Patrick Star, one of the dearest buddies of Spongebob!
One thing remains similar between the real world and the submerged world of Bikini Bottom; the friendship theorem.
You are not best buddies if you never decided to stop chatting for once and for all and then again reunited after a few days.
Well, something similar happened with Patrick Star and Spongebob as well. They went on many adventures, explored new places, fought between themselves, and suspended talking for days. However, again they got back and were as inseparable as ever.
You cannot credit Patrick Star as the most fantastic creature living in the sea. He always stood by Spongebob. The show didn't reveal the age of Patrick Star. But, the audience eats much more than what they are fed. From subtle hints and tricks, you can arrive at a tentative answer to your question of how old is Patrick Star.
If you want to know how old is Spongebob and Patrick Star, you will have to do some easy maths. As the entire show has given only one direct clue to Spongebob's age, you will have to use that parameter to derive others' age.
A possible age estimation
We have seen that Spongebob was supposedly born in 1986, and the show started running for the first time in 1999. So, if the time setting of our world and that of Bikini Bottom's is considered identical, then Spongebob was around 13 years during its first premier.
Also, times and again, the show reveals that Patrick Star and Spongebob have been buddies since their early childhood. So, you can do quick logical reasoning and suggest that the birth year of Patrick is also 1986.
Even if Spongebob has some documentary evidence of his age, Patrick Star has no account, even though the series later removed the date of birth. Some fanfictions have ascertained his date of birth to be July 19, 1984, making him two years older than Spongebob.
Thus, Patrick Star and Spongebob have some minor age differences. It is most likely that your question of how old is Spongebob and Patrick Star should have the same answer.
We have solved half of the puzzle by now; the ages of Spongebob, Mr. Krabbs, and Patrick Star just got slowly revealed. But, what about our beloved grumpy-faced Squidward. The find won't be easy if you wonder how old Squidward is, but it will be an exciting search.
How old is Squidward?
The producers never gave direct clues or hints about the age of Squidward. However, there are some subtle clues that you might unravel if you know how to read in between the lines. Paying close attention to those details might give you the key to answering how old Squidward is.
The full name of this fascinating character is Squidward Quincy Tentacles. An octopus, he has many anthropomorphic features. If you closely follow his body, then you will see that he originally is an octopus. But, as mentioned earlier, he doesn't have eight tentacles; he has 6 of them.
Squidward is an immediate neighbor to Patrick Star and Spongebob. He also lives alone in his abode. He is not much into the hustle and bustle. Instead, he enjoys his peace and calm. In a word, he is an old-school guy amidst the cheerful Spongebob and Patrick.
Squidward loves to play clarinet and has other excellent characteristic attributes. Most compelling among them is that he is secretly crushing on Squidney Weekly, with whom he even aspired to get into a relationship within the near future.
Rodger Bumper is the voice artist for the Squidward character, and it doesn't have a childish voice. So, from that, you can very reasonably infer that he is not of the same age as Patrick Star and Spongebob.
A possible age estimation
Squidward is a better driver than Spongebob and also has a more stable job. His character is also not as cheerful as that of Spongebob and Patrick Star. He serves as a cashier for Mr. Krabbs at his restaurant. Also, he has a more mature outlook towards life. So, all these points to the fact that he is possibly older than Patrick Star and Spongebob.
Rumors suggest his year of birth as 1972, making him older than Spongebob but younger than Mr. Krabbs. It is most likely that this person is in his mid-40s. This will give you tremendous insight into his character.
Final Thoughts
We have had a little tour inside the world of Bikini Bottoms. It is time to bid it goodbye. However, before leaving, make sure you have acquainted yourself well with Spongebob and his company!