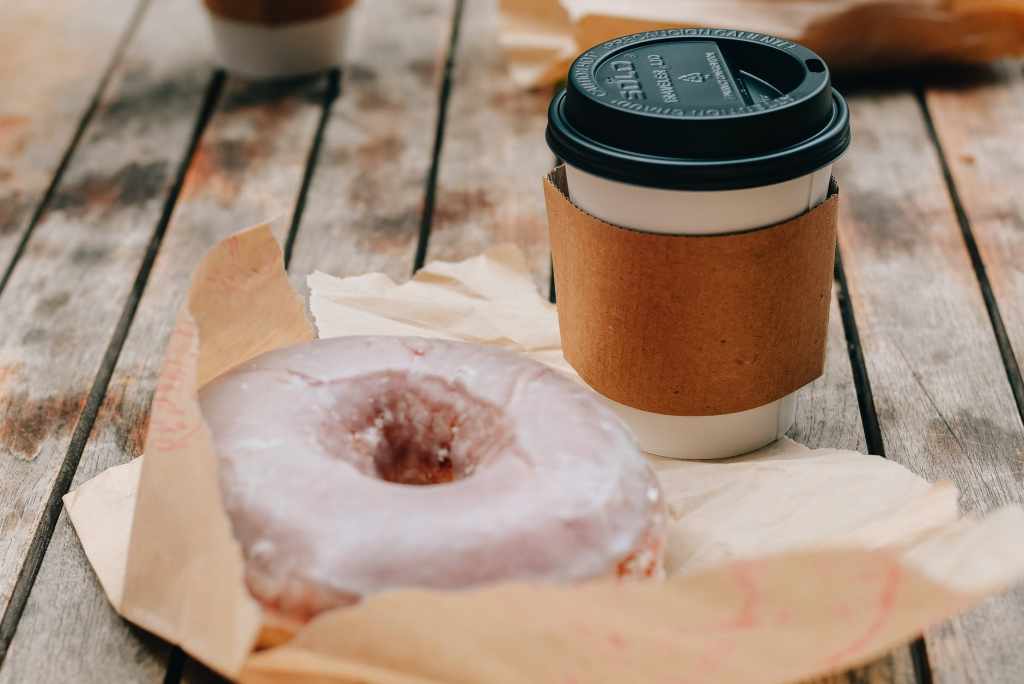 There is hardly anyone who does not like Dunkin Donuts. However, even though Dunkin Donuts produce delicious drinks, they contain loads of sugar and are high in calories. So, if you are in love with Dunkin Donuts and are conscious about your health, read our article! We have gone through their menu and come up with all the healthy Dunkin Donuts drinks and many more drink options you can try out!
So, read ahead, and we are sure you won't find it difficult to choose healthy Dunkin Donuts drinks!
Healthy Dunkin Donuts drinks
Dunkin Donuts has some great beverages to choose from. But not all of them are healthy and good to drink every day.
So, if you are an ardent lover of Dunkin Donuts and are looking for healthy options, check out the following below:
Hot tea
A cup of hot brewed tea has several health benefits. It can boost your immune system, fight cancer, and much more.
In addition, you can get this drink at a very reasonable price, and this drink does not contain any calories. Dunkin Donuts hot tea has several options: hibiscus tea, chamomile tea, and black tea.
If you have any disease or you are simply feeling stressed, choose chamomile tea. This is because it offers comparatively more benefits than the other two.
Iced unsweetened green tea
If you want a healthy beverage, then you must buy iced green tea. It can refresh you and keep you healthy. It only gives you five calories and benefits your health immensely.
Espresso
Espresso has the lowest amount of calories. This brewed coffee can offer you immense benefits and give you a lot of energy.
You can also order this drink with some sugar or milk. But try to choose the healthier options if you want to add milk or sugar.
Black brew cold coffee
The black brew cold coffee has only ten calories. However, it contains more caffeine than any other regular coffee.
So, you can choose this as a healthy option but remember not to consume excessive amounts of it.
Hot coffee
Hot black plain coffee is another healthy drink for you. However, if you do not like the bitter taste, you can add some almond milk or skim milk with it.
And it will add up to 15 more calories. You can also select the blend of Hazelnut and French Vanilla. Both these options also contain low calories.
However, don't mistake yourself with the Hazelnut Swirl or French Vanilla, as they have loads of calories and sugary syrup.
Americanos
If you love to drink espresso, then there is no doubt that you would not like Americanos. It is basically a mixture of espresso and hot water. Moreover, this combination makes it a low-calorie drink.
Iced coffee
It is another low-calorie healthy drink option. It contains only 15 calories.
Iced Macchiato with some skim milk
The blend of espresso two shots with milk form a macchiato. You can add some skim milk to the drink to reduce calories and fat.
If you order a medium-size beverage, you will get 70 calories with sugar 11 grams. This sugar mostly comes from milk lactose.
Hot Latte with some skim milk
You can drink latte hot with some foamy milk. This coffee tastes better with frothy milk, and it is healthy too.
The calcium present in this drink through milk also benefits you. A latte with some skim milk contains 100 calories only if you deduct the add-ons and the syrups.
Cappuccino
The mixture of espresso with milk and topped with foam to form a cappuccino. A medium-size cappuccino contains 120 calories only and sugar 10 grams. It is a delicious and healthy drink for you.
Best Dunkin drinks
Apart from having some healthy drinks, there are some more beverages you can try out at Dunkin Donuts.
Even though these may be slightly higher in calories, but there is no harm in trying one or two now and then. So, now let us check out the best Dunkin drinks; you can try your hands-on:
Hot caramel macchiato
Caramel hot macchiato is a mixture of caramel flavor, coffee and steamed milk. It would be best if you tasted this drink to understand how good it is.
Hazelnut iced coffee
The flavor of this drink is smooth, powerful and creamy. The coffee is very similar to the flavor Nutella.
However, it is hard to explain the taste of this drink. So, you have to try this at least once, and you are sure to count this among the best Dunkin drinks.
Caramel iced coffee
Caramel iced coffee is a smooth drink with caramel. If you do not want any sugar, then you can always choose the sugar-free one.
It is a very delicious drink and almost everyone's favorite. So, if you try this drink, it will become your favorite.
Coconut ice coffee
Coconut ice coffee also counts among the healthy Dunkin Donuts drinks. It is sugar-free and contains a natural sweetness which brings about a great taste to this drink.
Iced tea
This drink is a blend of lemon and tea. If you want, you can add some sugar to make the drink sweeter. So, if you are tired and want something refreshing, iced tea can be a great choice.
Regular coffee
This coffee does not contain any sugar or cream. However, its natural sweetness gives this coffee a great flavor and amazing taste.
The flavor of the regular coffee is nutty. However, it would be best if you tried it to understand the authentic taste of this drink.
Blueberry iced coffee
The blueberry iced coffee is quite similar to the blueberry muffin. You will find the taste to be bold and sweet. So, try it out once to understand the true taste of this drink.
Bottled ice coffee
This bottled ice coffee comes in several flavors. So, after a tiring day at work, you can easily choose this beverage.
Moreover, it is portable and can be taken anywhere you wish to. So, if you are busy and don't have time to enjoy a cup of coffee at Dunkin Donuts, this one is your ideal choice.
Birthday cake coolatta
This coolatta drink is a mixture of hazelnut swirls of Dunkin and vanilla bean coolatta. As a result, the drink has a taste of vanilla and hazelnut.
However, the taste might be similar to Starbucks Birthday Cake Frapp, but the dominancy of hazelnut and vanilla brings out the uniqueness of this drink.
Dunkin flavor shots
Dunkin has some amazing flavor shots. These flavor shots add uniqueness to your drink, enhancing the flavor and making it a favorite for many.
So, now let us check out some of the flavor shots Dunkin Donuts offers:
Toasted almond flavor shot
You will love this flavor if you are an almond lover. In this flavor, the toast takes the flavor to the next level.
To enhance the flavor, you can add French vanilla. It will bring about a great taste in your drink.
French vanilla flavor shot
This shot gives your favorite coffee a nice vanilla flavor. It is quite sweet, but its original vanilla taste is not predominately present in this shot.
Hazelnut shot
If you do not like Dunkin Donuts coffee to be excessively sweet, then you can try out this one. It is tasty and brings about a great flavor in your coffee.
Blueberry Shot
Unlike other fruity flavors that remain strong in your beverage, the blueberry shot is different.
The taste is subtle and gives your drink a unique taste. Moreover, it supplies you with a low-calorie count.
Coconut Shot
If you like a coconut flavor, this shot is for you. It blends well with coffee and gives your beverage a completely different dimension.
Raspberry Shot
The raspberry shot has a strong fruity taste. So, it suits best with iced tea and not with coffee.
Dunkin' Donuts flavor shots calories
Now that you know all the flavor shots available at Dunkin Donuts let us check out each shots' calorie content. Check out the following:
Dunkin Donuts flavor shots supply you with 5 to 10 calories.
Latte hazelnut flavor shot with skin milk contains more than 200 calories.
Iced coffee with flavor shots like coconut, French vanilla, blueberry, toasted almond, hazelnut or raspberry contains around 20 to 35 calories.
Macro friendly Dunkin' Donuts coffee
Some of the macro friendly Dunkin Donuts coffee you can try out are as follows:
Iced Choco-Nilla Coffee:  Macros you will find in a 16 oz. 6F/8C/1P
Coolatta Coffee with some skim milk:  Macros you will find in a 16 oz. 0F/41C/4P
Coconut Pie Hot Crème Small Coffee:  Macros you will find in a 10 oz. 0F/ 25C/ 2P
 S' mores Hot Swirl Coffee Small with no cream:  Macros you will find in a 10 oz. 0F/ 23C/ 1P
Iced Berry Bliss Coffee:  Macros you will find in a 16 oz. 6F/ 8C/ 1P
Cappuccino of Dunkin Donuts: Macros you will find in a 10oz. 0F/21C/ 4P
Dunkin Donuts sugar free syrup
Dunkin Donuts has some flavor enhancers, almost calorie-free shots but not syrups. It acts as an enhancer but has no presence of added sugar content.
Dunkin Donuts has some sugar-free flavors. You can either try out toasted almond, blueberry, French vanilla, coconut, raspberry or blueberry flavor shot.
It will only give you minimum calories. However, make sure you ask them to give you the sugar-free ones.
Unhealthy Dunkin Donuts drinks
Now that you know about the healthy Dunkin Donuts drinks, let us check out the unhealthy ones.
There is a range of calories 390 to 790 with sugar 83 to 167 grams in vanilla bean coollatta.
The peppermint swirl mocha frozen cream coffee consists of 1170 calories. Although these drinks are tasty, they can affect your health overall.
Dunkaccino is another drink that can affect your health if you consume it in large amounts. A medium-sized Dunkaccino supplies you with 350 calories and 38 grams of sugar.
In addition, while drinking, you will get milk solids, corn syrup solids, soybean oil and many more different ingredients which are processed.
Almond joy flavored drink is a favorite for many people. But it contains a lot of calories which is not ideal for your health overall. This drink contains around 340 calories and 47 grams of sugar.
So, it is advisable always to drink this beverage in small quantities and not in large amounts.
Final Thoughts
As we bring you to the end of our blog today, you know some of the best healthy Dunkin Donuts drinks.
All these drinks can provide you with health benefits, so it is best to choose the ones that contain little or fewer calories and almost no added sugar.
Also, we have mentioned to you some of the flavor shots from Dunkin Donuts that you can add to your beverage to enhance the flavor. However, always remember to select the ones that come in little or no sugar content.
We hope this article is helpful and you know everything you need to about healthy Dunkin Donuts drinks, flavor shots and more. So, don't forget to let us know in the comment section below which one is your favorite among the comprehensive list we have mentioned above.
Any Ideas / Suggestions About This Topic