Gathering from what we find in films, on TV and in the pages of gleaming magazines, provocative famous people are impeccable character. Trust it or not, even in their downtime, celebrities ranging from Ellen DeGeneres   to Jessica Simpson opt to let their natural beauty take center stage. These celebrities' stars pick to avoid the lipstick and mascara sometimes. Much sadly, there's nothing persevering paparazzi cherish more than snapping a starlet who looks not as much as picture perfect.
Check out the gallery of the celebrities with & without makeup
Natalie Dormer
LEFT: Having Lunch in London on July 22, 2015.
RIGHT: at the Game of Thrones board in the midst of Comic-Con International 2015.
Kylie Jenner
Emma Stone
LEFT: drinking coffee on set 2014.
RIGHT: joyful at Birdman premiere on Aug. 27, 2014.
Rose Byrne
LEFT: strolling in the East Village, NYC on Sept. 30, 2013
RIGHT: at the Glamour Magazine 23rd annual Women of the Year gala on Nov. 11, 2013 in NYC
Beyonce Knowles
LEFT: exiting INK restaurant in Beverly Hills on Feb. 8, 2013
RIGHT: attending the Life Is But a Dream premiere in New York City on Feb. 12, 2013
Mila Kunis
LEFT: walking in Hollywood on Dec. 12, 2012
RIGHT: attending the Ted premiere in Hollywood on June 21, 2012
Hilary Duff
LEFT: running errands in Studio City, Calif., on June 18, 2013
RIGHT: attending the 7th Annual March of Dimes Celebration of Babies in Beverly Hills on Dec. 7, 2012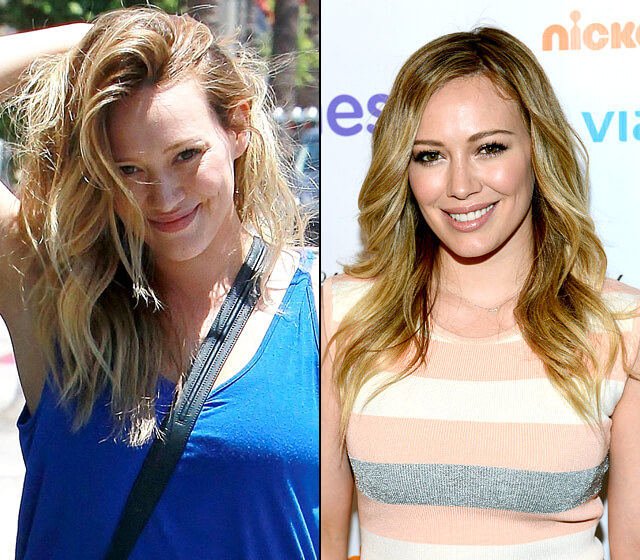 Jennifer Love Hewitt
LEFT: shopping at Kitson in Beverly Hills on April 16, 2013
RIGHT: attending The Client List's Valentine's Day event at Mel's Diner in West Hollywood on February 14, 2013
Minka Kelly
LEFT: taking her dog for a walk around West Hollywood on May 9, 2013
RIGHT: attending a FOX party in New York City on May 13, 2013
Jessica Alba
LEFT: going to a meeting on April 3, 2014 in Beverly Hills
RIGHT: at the 2014 MTV Movie Awards on April 13
Jayma Mays
LEFT: having lunch in Los Feliz, CA on May 20, 2014.
RIGHT: at Nickelodeon's 27th Annual Kids' Choice Awards on March 29, 2014.
Kat Dennings
LEFT: at Whole Foods in L.A.'s Studio City on March 26, 2014
RIGHT: at The 40th Annual People's Choice Awards on Jan. 8, 2014
Jennifer Lawrence
LEFT: leaving Whole Foods in L.A. on March 22, 2012
RIGHT: at a Barnes & Noble book signing on March 20, 2012
Sarah Jessica Parker
LEFT: grocery shopping in the Hamptons on July 19, 2013
RIGHT: at the Tate Americas Foundation Artists Dinner at Skylight at Moynihan Station in NYC on May 8, 2013
Leighton Meester
LEFT: leaving a yoga class in L.A. on March 22, 2013
RIGHT: attending the Target + Neiman Marcus Holiday Collection launch event in New York City on November 28, 2012
Teresa Palmer
LEFT: newly pregnant, on way for checkup at Santa Monica Medical Center in Santa Monica, Calif., on Aug. 19, 2013
RIGHT: at the DIESEL + EDUN Studio Africa Event on April 12, 2013 in La Quinta, California
AnnaLynne McCord
LEFT: tweeting about natural beauty on May 4, 2012
RIGHT: supporting the Somaly Mam Foundation in New York City on October 17, 2012

Pamela Anderson
LEFT: going to breakfast in Malibu on Oct. 4, 2012
RIGHT: attending the FrogAds.com launch in West Hollywood on March 22, 2012
Freida Pinto
Kate Moss
LEFT: visiting a doctor in London on June 6, 2012
RIGHT: glowing at the Kate: The Kate Moss Book after party in London on Nov. 15, 2012
Nicole Richie
LEFT: running errands in L.A. on Sept. 28, 2012
RIGHT: attending a Teen Vogue event in New York City on Oct. 20, 2012
Katie Holmes
LEFT: running errands in New York City on Oct. 11, 2012
RIGHT: posing at Narciso Rodriguez Kohl's Collection launch party in New York City on Oct. 22, 2012
Kristen Stewart
LEFT: walking through L.A. on June 16, 2009
RIGHT: promoting The Twilight Saga: Breaking Dawn — Part 2 in Tokyo, Japan, on Oct. 24, 2012
Rebecca Romijn
LEFT: leaving a nail salon in Woodland Hills, Calif. on Oct. 18, 2012
RIGHT: attending the Most Talkative: Stories From The Front Lines of Pop Culture book release party in West Hollywood on May 14, 2012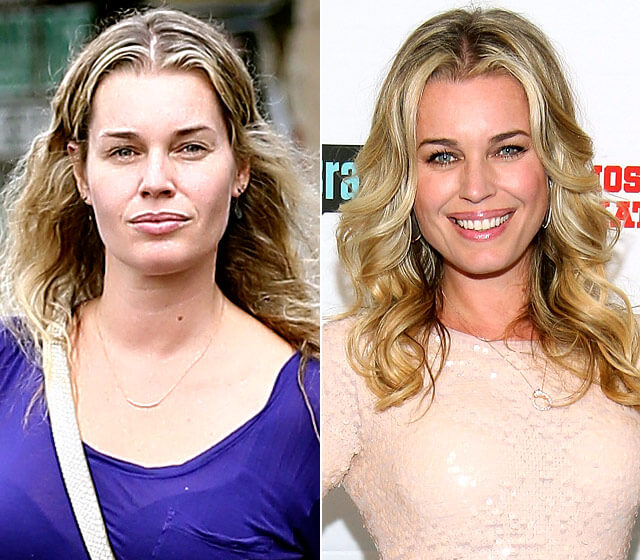 Kim Kardashian
LEFT: getting pampered in L.A. on July 18, 2012
RIGHT: attending the Angel Ball in New York City on Oct. 22, 2012
Kate Hudson
LEFT: strolling through London on May 29, 2012
RIGHT: turning heads at amfAR's Inspiration Gala in L.A. on Oct. 11, 2012
Alyson Hannigan
Cameron Diaz
Jessica Chastain
Keira Knightley
Ashley Tisdale
Maria Sharapova
Amy Adams
Christy Turlington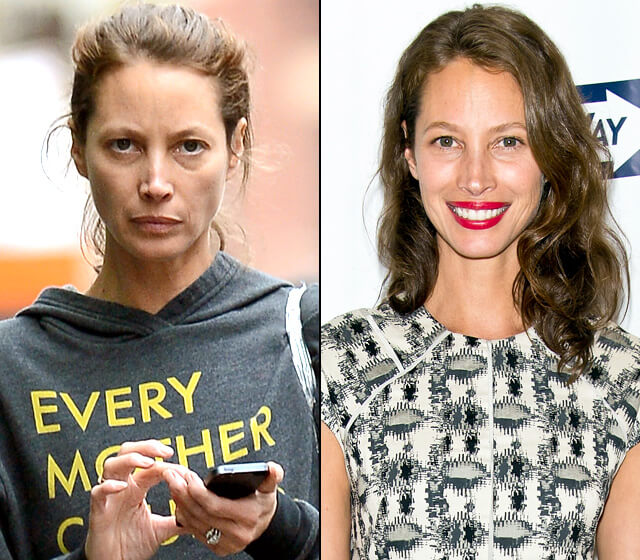 Julie Bowen
LEFT: running errands in L.A. on July 10, 2013
RIGHT: attending the the Step Up Women's Network 10th annual Inspiration Awards in Beverly Hills on May 31, 2013
A
Also Must Watch-Ordinary People Who Have A Celebrity Look Alike