With Valentine's day knocking around the corner, are you all struggling with what to gift your girlfriend? Well, search no further! We have come up with thoughtful, unique, and romantic gifts for girlfriend. All the list of gifts given below not only fit well for Valentine's day, but are all appropriate gifts for birthdays, Christmas, and anniversaries. So, aren't you eager to know what the best gift for a girlfriend is? Start scrolling down to know them all!
Best Gift for a Girlfriend
Giving your girlfriend presents can be a difficult task. But with the vast gift ideas given below, you are sure to find the best gift that your girlfriend will love.
So, let us check out the best gift for a girlfriend:
Customized Star Map
If you are looking for surprise gifts for your girlfriend, then a customized star map is a great option. It can be the best choice you can make to give your girlfriend for Valentine' day this year. Stars and moons are always unique instances to express your love. So, by using this customized star map, you can put one or more events of your life to remind her of the ancient times. For example, you can choose the day you two met for the first time. It will be a unique picture that is sure to bring back thousands of memories to your beloved.
Bond Touch Bracelets
Does your beloved live far away from you? Has this pandemic made your meeting impossible? Well, then this touch bracelet is the best gift for a girlfriend or boyfriend.
It is a bracelet specially curated to bring about the warmth and feeling of touch in the relationship. Whenever you touch the bracelet, the other piece that is with your partner will light up. It implies that you are sending a loveable touch towards your partner in any color you wish to send. For instance, if you touch your bracelet and choose the red hue, your partner's bracelet will light up red.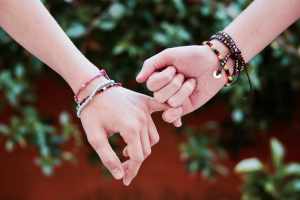 Serotonin Molecular Neckpiece
The happiness neurotransmitter that your body produces is known as the serotonin molecule. It increases the well-being feeling in your body. This newly made serotonin molecular neckpiece helps to let your special one get a sense of happiness.
You can either get the necklace in silver, gold or rose gold color. It is the best gift for a girlfriend. Every time your girl wears the neckpiece, she is sure to remember you. Also, it will remind her how much you care for her happiness.
Chocolate Fondue Set
Chocolates are everyone's favorite. So, rather than gifting your girlfriend chocolates this year for Valentine's day, get her a fondue set. You can choose the plastic or ceramic ones. You can use these sets for cheese as well. If your beloved is a food-lover, she is sure to fall in love with this gift!
Long-Distance Relationship Coffee Mug
Another one among the thoughtful gifts for a girlfriend is this long-distance relationship coffee mug. If you both happen to live far away from each other, you can try to get a long-distance mug.
These mugs have states marked on them. Plus, it also connects the two cities where each of you lives inside a heart, and both the maps joined together with dotted lines. So, give your girlfriend this personalized gift and enjoy an intimate coffee time together over the phone or video call!
Comfy Sleepwear
Everyone loves to sleep in comfy clothes. So, why not use the opportunity to pamper your girlfriend? Gift her soft and comfortable nightwear, and it is going to be the best gift for a girlfriend. You will also effortlessly give her signs for a romantic encounter. Relive the romance and snuggle with your girlfriend in that nightwear. She is sure to enjoy and cherish the moment all her life.
Silky Kimono
Along with her nightwear, you can pair a comfortable kimono for your girlfriend. Get the ones that are soft and have a pleasing satin finish. You will find several options online such as at the Vibe Clothing Company or at the mall.
Try to get a design that has blossoming flowers and peacock feathers. It will replicate the positive and integrity of your relationship. Also, don't miss out on selecting the fabrics with a French seam, as they will last for a lifetime. It is a simple yet one of the thoughtful gifts for girlfriend.
Chocolate & Wine Pairing Kit
If your girlfriend loves chocolates and wine, then this is the best gift for a girlfriend to give this Valentine's day. Several options pair dark, extra dark, milk, and smooth dark chocolate with the perfect wine. The entire combination of chocolates and wine come together and give your girlfriend a delight. The curators get these packs in a way that the wine and chocolates complement each other. If this is the 1st gift for girlfriend, you can be sure she will love it!
Photo Display Wall Art
There is nothing better than gifting each other pictures. So, why not give your girlfriend a wall art that will remind her of all the romantic times you two have spent together? All you need to do is gather all the memos, postcards, pictures, artwork, photos, or sketches. Then beautifully arrange them with all the helpful tutorials available online.
Once you have arranged them well, you can either use small frames or get a frame that fits all these pictures together. Put it up the night before Valentine's day, and you are sure to see happy tears in your beloved's eyes the next morning.
Wooden Souvenir Box
If you want to gift your girlfriend something she will remember all her life, get her a wooden souvenir box. Place into the wooden box all the relationship mementos to give your girlfriend that she will keep for a lifetime. You can keep the shells gathered at the beach first time, tickets, napkins, coasters, dried flowers, or other small things that are memorable and special to both of you to put into the box.
Try to choose the wooden box that is carved with floral designs or has a polished finish. Please keep all the exclusive things in your package so that your girlfriend remembers and cherishes this gift all her life.
 Backpack
Are you and your beloved one love exploring the world? Well, then for trekkers backpack can be the best gift for a girlfriend.
If both of you like to go on picnics to the countryside, you can gift her a picnic backpack. It has specific holders to keep wine bottles and use the cooling compartments to store cheeses, sandwiches, fruits, and cold meats for snacks. It is a fantastic way to plan out a getaway and spend a romantic time amidst the forests.
Love Letters that speak the Men's words Book
Do you fumble telling your girl sweet messages? Well, if you do, then you can get a book that does the talking for you. Several companies produce such books that have love letters. Some of the author's love letters present in the book are Dylan Thomas, Scott Fitzgerald, Beethoven, and many more. So, give your girlfriend a book of love letters through the words of famous writers. If your beloved loves to read romantic novels or is a history lover, she is sure to love this book.
Alphabet Pendant
You can get pendants that have the initials of your girlfriend engraved in gold or silver. It is an ideal choice of gift for Valentine's day. You can also try to buy the ones that have 'one of a kind' or any other love message engraved at the back of the pendant. You can gift her this pendant, and she will love to wear a piece of you with her all the time. Since women love jewelry, this is the best gift for a girlfriend.
The Care Basket
There is nothing more fascinating than gifting your girl a basket filled with items to pamper her skin and hair. Check out all the websites or her dresser to find out what brand she likes or generally uses. Women are particular about the product they use. So, do full-proof research before you buy the products for your girlfriend. You can also add a few bathing accessories into the basket. Your girlfriend is sure to love this care basket, and it also gives a message that you care about her and her skin.
Wake Up Light
It is indeed tough to leave your beloved and get out of bed. But there is this specially made wake up light for all lovers. It is light that begins with a dim light as the sun rises. And then gradually gets brighter as the sun goes over your head. So, give you girl this gift to allow yourselves to get your body accustomed to getting up early.
Quick Tips before buying the best Gift for a Girlfriend
It is tough to judge a girl's mind. So, if you are planning to surprise your girlfriend this Valentine's day, we'll help you!
As you can choose the best gift for a girlfriend from the vast list mentioned above, here are quick tips to keep in mind before buying it. Check out the following:
Could you choose a gift that she does not own?
Women have a vast collection of clothes, jewelry, makeup, and so much more. It can be tough to be updated with everything your girlfriend gets regularly. But it is easy to know if the gifts mentioned above belong to her or not. Check out if your girlfriend has already got any of the gifts we have made a list of the above and choose the one does not have, and you like best.
Take her best friend's advice
Your girlfriend's best friend is sure to know many secrets and facts that you might be unaware of. So, you can take your girlfriend's best friend's advice and be sure never to go wrong. But always put in your inputs as well. It is essential to have your inputs and ideas into the gift you are presenting your loved one.
Try to avoid the Cliches
Usually, chocolates and flower bouquets are termed cliches. But the box of chocolates with wine or the chocolate fondue set isn't. So, to make your cliché gift unique and exclusive, get the ones mentioned above.
Your girlfriend at first might wonder you have got for her a usual box of chocolates. But when she sees the wine along with them, it will indeed change her mind.
Women are never bored of jewelry
Even though chocolates and flowers are considered cliché, they make people happy. Similarly, jewelry is a weakness for almost all women. So, if you notice your girlfriend wearing jewelry, you can get her the ones mentioned above. A unique bracelet or pendant that will remind her about and you can never go wrong with this as a gift.
Always keep your personalized touch in the gifts
Even though you take your girlfriend's best friend's advice, you must put in your personal touch. In a romantic relationship, materialistic things come later; your thought and personalized touch matter the most. So, if you take advice from anyone, always keep your personalized touch in the gifts you give your beloved.
Final Thoughts
As we bring you to the end of our blog today, we hope you have settled for the best gift for your girlfriend. All the choices of the gifts mentioned above are unique, thoughtful, and possesses a romantic touch.
More so, these gifts are budget-friendly and can be great choices if you have a limited budget. Follow the tips mentioned above to give your girlfriend the best surprise this Valentine's day. And don't forget to let us know in the comment section below which of the gifts mentioned above you chose for your beloved. We hope you and your beloved have a great Valentine's day!