Anniversaries are important milestones in every relationship. The time stamps on these milestones can vary especially at the beginning of a relationship. Is it a one month anniversary? Six months? A year? Only you know that and should choose the gift accordingly.
It can be challenging to come up with fitting anniversary gift ideas for your girlfriend. But if you have hit a brick wall on that front and can't seem to find something that will suit the occasion, it might be a good idea to take a look at this list. Some of these gifts are more practical than sentimental, some are the complete opposite. Some are small, sweet yet affordable, others are more meaningful for long-term couples. In any way, we are sure you will find something that will set off that imaginary idea light bulb over your head.
#1 Matching Couple's Mugs
You can never have too many mugs. Matching mugs are even better. They will never fail to put a smile on your girlfriend's face. Whether it's in the morning preparing for a hard day or in the evening relaxing with a hot cup of tea, she'll definitely think of you.
#2 Personalized Folded Book Art
This is an incredibly unique gift that is bound to wow her. As you can see, pages of a book get folded in a way that will ultimately spell out a word. It can be your initials, sweet or motivational words, or maybe your own one-word inner joke that has been a running gag in your relationship. In any way, if you are aiming for meaningful this is the way to go.
#3 Matching Bracelets For Couples
If you go matching you can't miss. Matching gifts are always endearing, showing your commitment to your best girl. With these matching bracelets, you score a double win. First, you can show that you've put effort into selecting just the right pair. Maybe even find a personalized set with your names, dates, or anything else. Second, it is a fashion accessory she'll get to wear and be reminded of you every day. As we said, double win.
#4 Wi-Fi Connected Touch Lights
All relationships are different. When you are in a long-distance relationship, your primary goal is to show your presence and love even across thousands of miles. These lamps are perfect for it. You both get to keep one. When you touch yours, hers will light up showing your girlfriend that you're thinking of her. Sometimes you don't need words in order to be there for her.
#5 Morse Code Love Necklace
As a rule of thumb, jewelry works perfectly as a gift. It's picking the non-generic and beautiful one that can prove to be difficult. Fortunately, we have just the right necklace that's not only stylish but eloquent as well. The stones of these necklaces spell out the word "love" in Morse code. It is romantic but not cheesy or cringy. The necklace can also be paired with countless outfits which your girlfriend will surely appreciate.
#6 Scratch Off Travel Map
Do you and your girlfriend love traveling the world together? If so, you probably already have a lot of joint trips behind your belt. With this travel map, you can relive those amazing memories all over again. Scratch off the places you have visited together and reminiscence about all the magical as well as hilarious moments that happened on each particular trip.
#7 Luxury Wooden Bathtub Caddy
In order to impress her, you have to pour all your appreciation and love into one gift. Sometimes borderline literally. After a long day, draw her a beautiful bath and light up some candles. Bring her a drink and let her enjoy her favorite book or movie while soaking in hot relaxing water. Just put everything on this luxury bathtub caddy so that nothing winds up in the water. One relaxed satisfied girlfriend guaranteed.
#8 24K Gold Strawberry Champagne Marshmallows
A box of candy has always been a go-to gift for any occasion. Now, sweets don't have to be a standalone gift especially for an anniversary but they surely can tip the scales in your favor. Moreover, these are not just some candies, these are luxury marshmallows covered in edible 24K gold foil. To call them unique would be an understatement and your girl will surely appreciate this extraordinary treat.
#9 Personalized Matching Necklaces
If you want to be as close as possible to your girlfriend's heart and vice versa, matching necklaces are the way to go. The best part is there are a lot of options to choose from, such as a necklace with a metaphorical message (think keys and hearts), jewels, personalized touch, or anything else you can think of. There are a lot of styles to choose from as well, so make sure to take note on what kind of jewelry she prefers. In other words, be considerate and you shall be rewarded.
#10 Sound Wave Art
Incorporating sound waves into gifts is the latest trend that has taken the world by storm. Just take a look at this sound wave piece of art. It is abstract enough to seamlessly blend with any kind of interior. It is personal and meaningful but doesn't come off as cringy. You can choose your favorite song or recorded message to be transformed into a piece of art. How cool is that?
#11 Personalized Funny Socks
If you're looking for a small but endearing gift, then these personalized socks might do the trick. They can keep her feet warm and will make her smile every time your girlfriend looks down. Who won't smile when seeing something that has cute animals and puns all rolled in one? The socks can be personalized with both your names to add a dash of charm to an already irresistible gift.
#12 Matching Couples T-shirts
What counts the most in any relationship is communication and team play. Just like in sports. So in order to show that you are all about team play, you will need some matching outfits. How about these cool matching t-shirts for couples, then? Look awesome and loving when you go outside even without public displays of affection.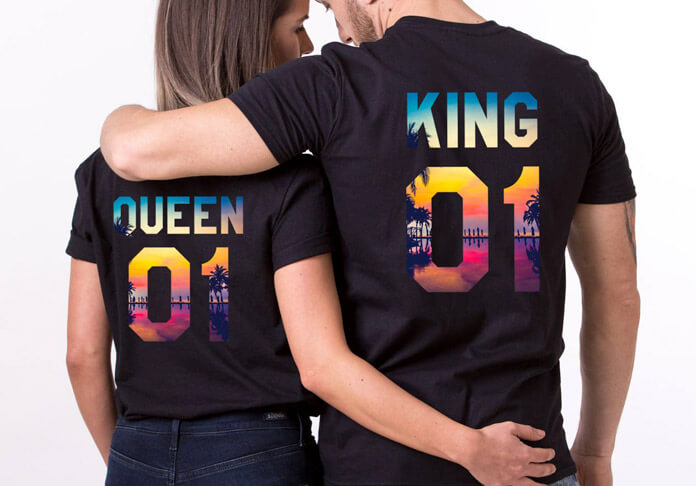 #13 Crimson Heart Umbrella
Yes, an umbrella might not be something you associate with when searching for anniversary gifts. But this one is both practical and adorable. If your girlfriend has a practical approach to life in general and doesn't appreciate trinkets, this umbrella can be a perfect gift. It will show her that you know her and want her to always be protected, come snow or rain. Plus, come on, it is heart-shaped. How adorable is that?
Any Ideas / Suggestions About This Topic