Even up to this very day, brochures still prove to be effective as a marketing tool, even when compared to digital and online tools. For travel destinations, a stunning travel brochure template works wonders in attracting potential customers. Brochures are beneficial not only to five-star hotels but also to museums, mom-and-pop shops, and many more.
If your business sees itself as a tourist destination, then read on as we discuss free brochure templates to help you take your startup up a notch.
How To Make a Brochure
It is unfortunate that many businesses fail to realize how wide their options are when it comes to designing a brochure. They get stuck trying to create their brochures using Microsoft Word or Google Docs. A brochure will only serve its purpose if the information it conveys is presented through a well-designed platform.
Online brochure makers, such as Venngage, offer its subscribers a variety of templates that cater to different industries — real estate, travel, events, and many others. Such a multifaceted tool, right?
Three Easy Steps to Creating a Brochure
If you're planning to design a brochure but don't have an idea on how to start, we've listed these simple steps to follow.
1. Identify your purpose.
The first step is considered crucial as it determines what your brochure is for, who your target audience is, and the deadline you have to meet.
2. Choose a brochure format.
After you have established your brochure's purpose and its potential content, you must pick a format. You may decide which between the two works best for your content, bi-fold or tri-fold. It is generally better to use the bi-fold format if you want to include large striking imagery in your brochure. A tri-fold format is more suitable if you want to feature more detailed information about your topic.
3. Pick a template.
As previously mentioned, there are online applications that feature ready-to-use templates for your travel brochure needs. All you have to do is pick one that fits the travel destination you want to feature and customize it in any way you like. These professionally designed templates can save you a lot of time and trouble.
Free Travel Brochure Templates You Can Use (and Customize)
Here are six free travel brochure templates that are sure to inspire you. Just pick the one that you think would suit your business best. 
Europe Tourism Travel Tri-fold Brochure Template
This brochure template exhibits a modern take on a travel brochure. It features photos, icons, bold texts, and a dramatic color palette. A dramatic color palette comes in handy in catching people's attention. Although the template features a contrast of colors, you can choose to deviate from that and customize its content further by enhancing your preferred section.
France Travel Tri-fold Brochure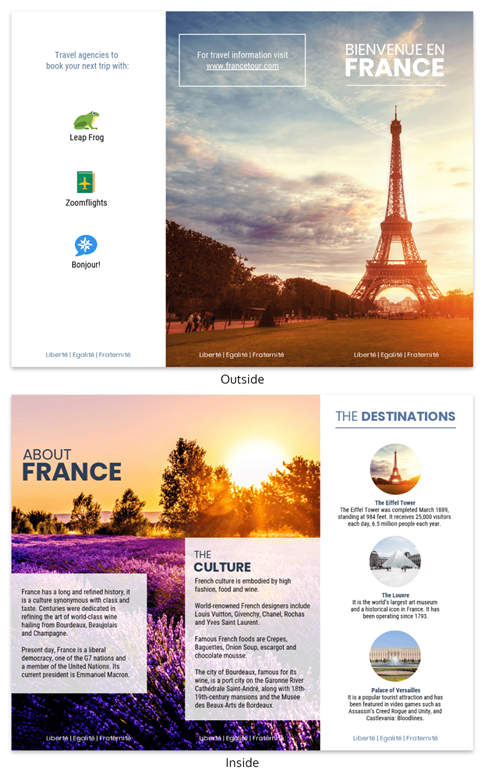 Invite others to travel and visit breathtaking destinations, such as France, through this template and many others featured in Venngage. You may use scenic photographs, comprehensible font style and size, and relevant icons to keep your brochure straightforward. We know France as a spot filled with picturesque views so use photos epitomizing that and let those photos do the talking for your brochure.
A tip I can share with you is to keep your font style simple so it's easy to read. But you can also spice up your texts by using a different font size, color, and alignment through Venngage's Text Tool.
Vacation Tours Travel Tri-fold Brochure Template
Use this template to market your travel agency and more with this brochure template that features realistic images, a variety of shapes, and a modern color palette. It can be considered smart to use realistic photos as they are truly great ways to show beautiful tourist spots. You may also use shapes for assorted reasons — as a frame, or as a means to draw focus on particular parts of the brochure such as a business logo.
Vacation Travel Brochure Template
Boast of your startup's elegance by using this equally elegant travel brochure template. You may apply elegant font styles, a unique color palette, and high-quality images to attract your target market's attention. This template shows how beautiful a brochure looks when you pick the perfect color palette to match your own photos as the former complements the latter and makes the headings pop.
Utah Travel Brochure
To entice travelers to discover new places such as Utah, include a map to clearly establish the location and how it can be found. When working on this, you can use Venngage's Map Tool. Incorporate suitable icons, too, to represent the types of attractions that the destination has to offer. Wrap your brochure up with mind-blowing photos that are captivating enough, your readers would want to book a ride right away.
Tokyo Professional Travel Brochure Template
Playful fonts, such as the one used for the headings, also have a place in creative travel brochures. This template's bold color palette manages to capture the audience's attention and, at the same time, accentuate the icons and photos blended in the brochure. You can also use the same color palette or create your own through Venngage's editor tool.
Everyone needs and deserves to take a vacation from time to time. Promote your travel business and destination with these stunning brochure templates and more with Venngage! Your brochure, when jam-packed with helpful information, will definitely serve as your client's guide toward making the most of their vacation.
Any Ideas / Suggestions About This Topic