There is nothing on this planet more to be prized than the true friendship. Friendship is a very special bond. Whether it is only you two or the entire group of friends, friends are the most important part of life. There are several Bollywood movies based on friends and their special bond. On the occasion of friendship day I have collected the list of Bollywood movies that redefined friendship.
Below is the list of top Bollywood movies base on friendship one must watch with their friends.
Gunday (2014)
This is the story of two refugees from Bangladesh who try hard to build a life for themselves in India, together. They confront a few hardships yet stick together until the end when they decide to die together, instead of living behind bars.
Yeh Jawani Hai Deewani (2013)
Kabir's story is the tale of his friendship with Aditi and Avi & Naina. The film shows how one is alone without friends and true happiness can be discovered only when one's true friends are around.
Kai Po Che (2013)
The story is based on three friends who stick together no matter what are separated forever because of communalist forces. The sacrifice however changes Omi forever. There's regret and a realization that friendship is a bigger force in our lives than religion or politics.
Desi Boyz (2011)
Two friends who help one another, through cash inconvenience, girl-trouble and every other sort of inconveniences.
Zindagi Na Milegi Dobara (2011)
Three friends meet for a bachelor trip and the trip changes their lives forever. This bollywood film make us miss our friends each time we watch it.
3 Idiots (2009)
The story of three friends Rancho, Raju and Farhan is so touching yet so entertaining, we can't resist to watch this one again and again. The complete simplicity of their friendship wins our hearts and makes us think of the friends we made in college and that one insane friend who always thought out of the box.
Wake up Sid (2009)
The transitioning story of Sid is another age story of friendship. Sid's friendship with Ayesha makes him responsible and independent. She not just shares her apartment with him but also finds him a job he enjoys and helps to discover him.
Jaane Tu Ya Jaane Na (2008)
The tale of Aditi and Jay and their other friends, Jaane Tu Ya Jaane Na is near to our hearts because we have at least one friend who reminds you of one of them.
Dostana (2008 Film)
This film is a love triangle. Two men pretending to be a gay both fall in love with the same woman.
At the end they prove how important her friendship is to them.
Rock On! (2008 Film)
Four friends form a band and shatter up after they cannot make it. They set up their normal lives until they plan to come together & take one more shot at fulfilling their dreams.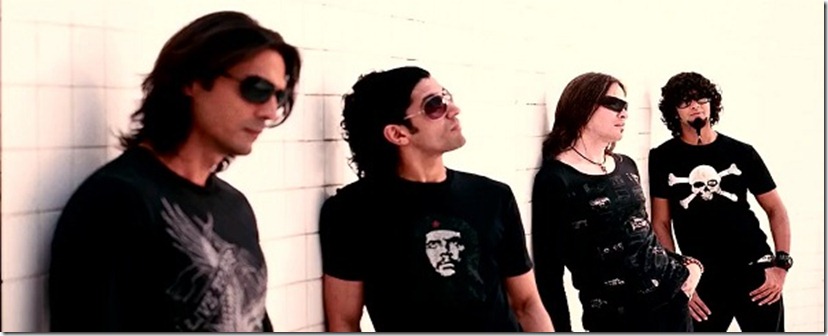 Rang De Basanti (2006)
Rakeysh Omprakash Mehra did well in adapting the legend of India's freedom fighters in modern time by telling the story of a group of friends who choose to raise their voice against the injustice of the Indian army for the sake of their friend. They decide to die bravely for their friend which has brought tears in our eyes time and again.
Koi Mil Gaya (2003)
Rohit's friendship with Jadoo, an alien who by coincident gets left behind on Earth made many of us cry. Jadoo helps Rohit by providing him superpowers whereas Rohit helps Jadoo return home.
Kal Ho Naa Ho (2003)
It's not just a love triangle; this bollywood film was the tale of the friendship Aman, Naina and Sameer share. Because of the friendship between them they are ready to do anything to make each other happy.
Munna Bhai MBBS (2003)
The friendship of a goon and his left hand-help, this one won our hearts with the dialogs which proclaimed the significance of one another in their lives.
Dil Chahta Hai (2001 Film)
Three friends Akash, Sameer & Siddharth discover that post-collegiate life will test their tight-knit bond. This film was responsible for all those reunions with long-lost friends.
Hera Pheri (2000)
The most interesting comedian trio of friends ever seen;  the roommates living in Babu Rao's house get together with their landlord in a plan to earn money as a result a mistake of telephone numbers.
Kuch Kuch Hota Hai (1998 Film)
Pyar dosti hai! This film familiarizes the thought of Friendship's day and friendship bands in India. The friend-love between two which blooms into love later, aim to express how friendship is the initial move towards falling in love.
Andaz Apna Apna (1994)
Amar Prem's nok-jhok friendship won numerous. We might never forget how these do mastaane fought and later became astounding friends who helped one another through the difficult times.
Jo Jeeta Wohi Sikandar (1992)
Sanju's friendship with his sibling Ratan which makes him fight for the cycling championship was a moving story. Sanju comes to understand how true friends never leave your side whereas others might befriend you for mysterious intentions.
Yaarana (1981)
This is the story of a friend who gives away all he has, just to see his friend turn into a singing sensation and his friend who in return never forgets his friend. This bollywood film can be portrayed by the melody-tere jaisa yaar kahan, kahan aisa yaarana, yaad karegi duniya, tera mera afsaana.
Sholay (1975)
One of the best and most viewed film of Bollywood, Sholay was the journey of two friends Jai and Veeru. The song Ye dosti hum nahi todenge has turn out to be the synonymous with friendship.
Zanjeer (1973)
One of the best songs of this film is Yaari hai imaan mera yaar meri zindagi! Explained that sacrificial tone where you are ready to take a bullet shot for your friend.
Haathi Mere Saathi (1971)
The story of the friendship and sharing a strong bond with elephants, the bollywood film has brought tears to our eyes often.

Anand (1971 Film)
This tale is of how a critically-ill patient teaches his doctor-turned-friend the lessons of life, is one of the most touching stories of friendship. The rendering of the title role played by Rajesh Khanna has made sure that the story of this friendship stays imprinted on our hearts forever.
Dosti (1964 Film)
Perhaps the oldest story based on friendship in Bollywood, this film tells the story of two friends Ramu and Mohan who help one another through hardships. This film is the best example of the proverb of 'friend in need'.
These films are however a few from the immense store of Bollywood films based on friendship. There are quite a lot of more which commemorate the feeling of friendship through lovely stories.
So which one are you going to watch this evening with your best buddies?