For some, asking a girl out is nothing short of scary, but don't forget girls expect you to make the first move. Go ahead and take up the chance, create your own special moment. Whether you are a shy or bold, reserved or buoyant, there are many cute ways to ask a girl out. Here we have come up with a list of 15 cute ways to ask a girl out. Most girls would vote these as cute and amazing.
WRITE A NOTE
Nowadays when everyone prefers to send text or watsapp messages we suggest you do something more thoughtful and special to ask her out. Write her a love note and slip it into her backpack, bag or notebook. She will be pleasantly surprised.
SAND CASTLE
Plan an outing on the beach it's okay if she wants to bring her friends along, build a sandcastle for her put a flag on top of you castle saying "Would you go out with me?".
MOVIE DATE
Another cute ways to ask a girl out is to find out from her friends if she is looking forward to a movie or which movie stars she likes and plan a movie date for the weekend. Buy the tickets in advance; put them in her mail box along with a note saying you want to take her out.
SCRABBLE IT UP
Challenge her for a game of scrabble and on the board write this message in advance "PLEASE GO OUT WITH ME" don't forget to give her the alphabets to write yes or no. Rest assured after such a cute gesture there is no way that she will say no.
MESSAGE IN A BOTTLE
Fill an empty bottle with some sand. Now write a note in piece of paper saying you want to take her out, roll it up and put it inside the bottle, now seal the bottle. Hide the bottle in her car or send it to her house.
A WALK TO REMEMBER
Take her on a walk make sure you have written "PLEASE GO OUT WITH ME" in sidewalk with chalk.  Stop at the right spot and give her a rose to add some charm.
POSTER
Take help from a friend, ask your friend to take photos of you with posters that say, "will," "you," "go," "out," "with," and "me?" . Now text these photos to her in proper order, when the last message is delivered show up in front of her that's a really cute ways to ask a girl out.
WRITTEN IN OUR STARS
Use glow in the dark star stickers on the ceiling it's a really cute idea to ask a girl out, at night when she'll
turn the lights off she will be surprised, off course for this idea you'll need help from an insider it may be her best friend you can also use refrigerator magnets instead of glowing stickers.
MIXING WORK AND PLEASURE
Slip into her office or classroom before she arrives in the morning, leave a note there asking her to go on a date with you make it extra special by adding a small basket of chocolates and some flowers.
YOUTUBE PROPOSAL
Upload a video on YouTube starring yourself wherein you are expressing your feelings for her and asking her to go out with you, now ask her to watch a really awesome YouTube video on your phone. This cute way to ask a girl on a date will surely get you a yes.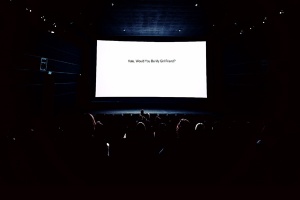 CARVED TREE
Go for a hike in the mountains with her. Stop right in front of a tree on which you have already carved the words "I want to take you out" (P.S. – Make sure you stop in front of the right tree.)
TRIVIA
Challenge her for a trivia game. When it's her turn, instead of reading the question given on the card you should say "Your question is: Will you go out with me?"
GO OLD SCHOOL
Go old school by writing her a poem; make it even more interesting by cutting the poem in stripes and delivering the pieces throughout a day by taking help from your friends. The last strip that is delivered at the end of the day would be "Will you go out with me?"
FORTUNE COOKIES
Another cool way to ask a girl out is to take her to dinner and at the end of the meal pre arrange with the restaurant to serve a customized fortune cookie having a message "Will you go out with me?
ALARM HER
Take help from someone in her family or her best friend and ask them to hide a alarm clock under her bed with the alarm set at 3 a.m. , when she'll hear the alarm she'll find it under the bed have a note there saying "Don't be alarmed I just wanted to know if you'd go out with me"
Truth be told, asking anyone out can be nerve-wracking. However, taking help from our tips will come to your rescue.
Do let us know if these tips were helpful for you.
Also, you must explore 11 Beautiful Love Quotes To Express Your Feelings and Famous Love Quotes From Best Romantic Movies