The votes have come, and the results are out for USA TODAY 10 Best California Beach contest, and looking at the results we know for sure that there's no need to go any far from L.A. in search of a perfect day at the beach, just lie back and dig those toes in the silky sand and the vivid gorgeous blue water of the best beaches in California.
You would also love to explore list of the top 10 beaches around the world to see at least once in your life:
Huntington Beach is famously known as Surf City by the visitors carrying the board; Huntington won the most votes by the readers and was titled the Best California Beach. This orange-county beach has lots to offer on and off sand both, like International Surfing Museum and the runner up Hermosa Beach in LA County won over the readers owing to its clean sand and several volleyball courts as well as multi-use trails.
Santa Cruz's, Capitola Beach came in a close standing third in the contest, while Manhattan Beach of L.A. grabbed the fourth place position. Santa Barbara's seldom crowded East Beach also made it to the top five's list. The winners of the contest are as follows:
Huntington Beach – Huntington Beach
Famous as Surf City USA, Huntington Beach is a rather attractive beach and is very popular with the surfers. Don't mistake this for a "Hey, man," city with tattered edges. Restaurants, hotels and tourism are huge here. Surfing is glam at the US Open of Surfing and the International Surfing Museum, hosted once a year at Huntington Beach. Family sightseeing is also popular here.
Hermosa Beach – Los Angeles
What if we were to name a beach as a town supermodel of the beaches, well, Hermosa Beach would certainly be in the running for that title with its clean sand, loads of volley ball courts, a prominent nonexistence of giddy tourist rubbish all of this earns a thumbs-up. Hermosa is also equipped with a The Strand which is a covered, versatile trail running for miles, drawing hikers and bikers who are in fact there to work out. Jogging strollers and Inline skates can be easily rented in close proximity.
Capitola Beach – Santa Cruz
Astute beach cottages in the midst of white picket fences set with surf shops, little boutiques and fine cafés. This beach of the olden day's village is a preferred by Bay Area locals. The beach is not as much windy as the others in the region with swim friendly water. If you are lucky you may spot sandcastle practice going on for the big contest in September.
Manhattan Beach – Manhattan
Manhattan Beach is often regarded as one of the sexiest beach in the U.S. The 2-mile long beautiful LA County beach on its own can make the grade. Add in toned up bodies resting on the sand and smooth gleaming bodies on the leap for a match of beach volleyball, and the whole thing look much better. To top it all the multimillion dollars worth beachfront abodes present even more eye candy. The whole thing is just unarguable: Manhattan Beach is simply hot!
East Beach – Santa Barbara
East Beach is nothing short of a vision in Santa Barbara — the beach is bordered by stunning palm trees that seem as though they are springing up from the town. Hardly ever found crowded, this beach is a perfect spot for kayaking, swimming or snacking on Stern's Wharf.
Coronado Beach – San Diego
Taking a spin at the Coronado Beach is almost similar to taking a trip to Oz. To visit the beach you can either take the ferry or perhaps the San Diego-Coronado Bay Bridge. Hardly found crowded the white sand beaches shine magically with tads of mica, as the gentle surf rolls off to the shore. This one is certainly a family-favorite beach and is also a landmark Hotel Del Coronado, whose towers bear a resemblance to the Wizard's castle. The Wizard of Oz. famous book by Frank Baum lived around the bend while writing the book.
Crystal Cove State Park – Laguna Beach
Famous for horseback and hiking riding when the climate is prohibitive for swimming, Crystal Cove State Park beach has more than three miles of beach area along with 2,400 acres of pristine woodland. The tide pools and beautiful sandy coves create a center of attention for beach strollers; however the beach is all the rage with surfers and swimmers alike. The fascinating underwater park gratifies keen scuba divers.
Santa Monica Beach – Santa Monica
The Santa Monica Beach is one huge beach, which is in fact a good thing, as Los Angeles people often flock here and you'll normally find that the summer weekends are fully jam-packed. Santa Monica Pier reroutes a few to roller coaster or Ferris Wheel. Best part is license is not needed for fishing from pier.
Moonstone Beach – Cambria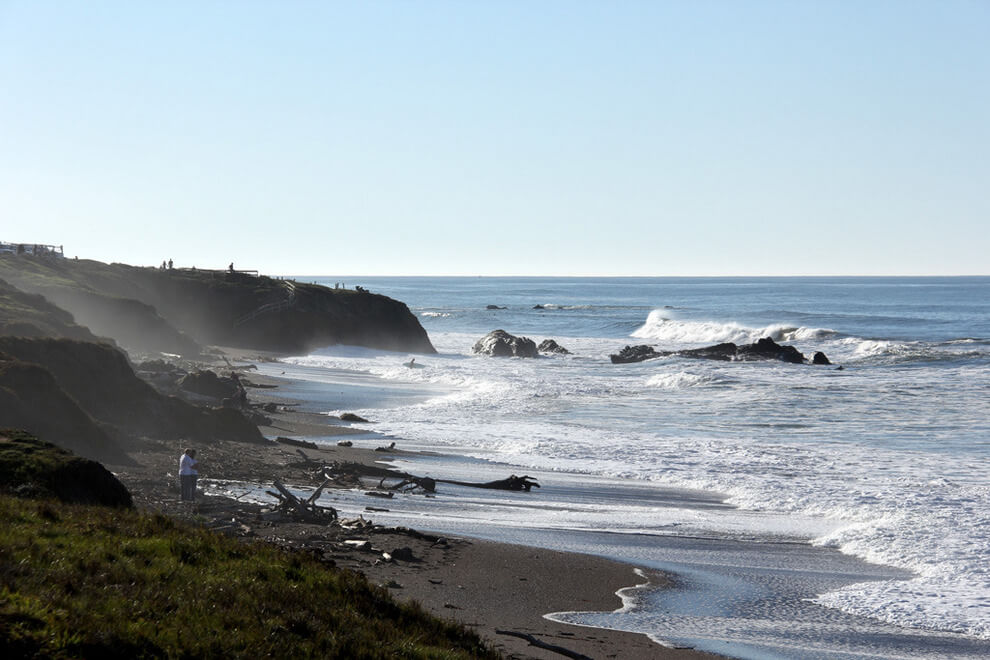 Moonstone Beach is admired by those who find excitement in a single paddle boarder against the backdrop of gray clouds at sunset. The water changes colors in the play of sunshine and the waves put on a bit of a show. Moonstone Beach is Boulder-strewn so it basically isn't meant for walking, but it's heaven for beach comers in quest of smooth moonstone rocks.
Pfeiffer Beach – Big Sur
Pfeiffer Beach is at the tenth position in the contest for best beaches in California. The vivid interaction of cliffs against the crashing waves makes everyone want to stop and admire this natural beauty. Pfeiffer Beach is one of the most famous stretches of sand in the Big Sur coast, and is popular for its purple sand.